Hatch Chile Season is coming to an end but your supply of Hatch Chiles doesn't have to stop! Keep the heat all year long with our tips and step-by-step instructions on preserving these zesty green chiles to enjoy throughout the year.
Pick, Roast & Prep Your Hatch Chiles
The first step in preserving the fresh, fiery flavor of Hatch Chiles year round is to pick, roast and prep them while they are still in season, before freezing. Click here for our Hatch Checklist on picking the best Hatch Chiles.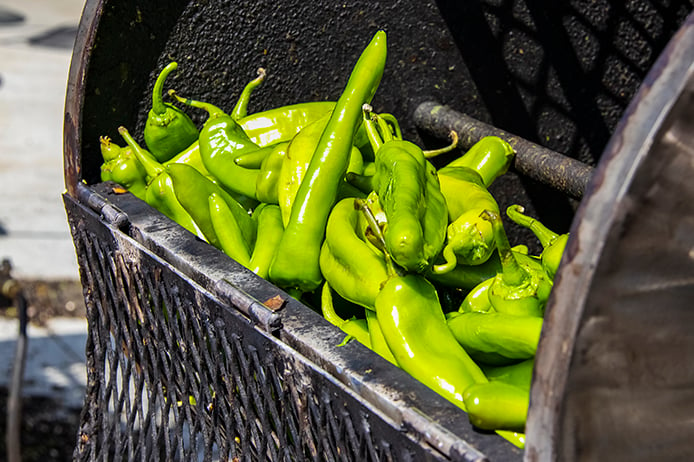 While you can just toss your whole or diced chiles in the freezer, we recommend roasting the chiles first, before freezing, to preserve their deep, smoky aroma, as well as make peeling them a breeze. There are many ways to roast Hatch Chiles, all of which we talk about here, but make roasting a breeze and let us roast them for you in-store for free!
Freeze for Fiery Flavor Year Round
If you're not roasting your Hatch Chiles, simply toss them, whole or diced, into a sealed plastic bag and place them in the freezer to enjoy later. If you are roasting them, you may also choose to freeze the chiles as is, or you can peel and seed the chiles while fresh. From there you can freeze them whole or choose to dice them into small pieces.
Once your chiles are ready for freezing, place them into plastic freezer bags or shallow freezer-friendly containers to prevent freezer burn. If you are using plastic freezer bags, try to remove as much air out of the bag as possible before placing in the freezer.
Store your Hatch chiles in the freezer for up to a year and thaw in the refrigerator before using.

Looking to learn more about Hatch Chiles? We have everything you need to know about summer's favorite pepper including more recipes, can't miss products and tips on how to hack Hatch Chile season.
Shop online for your ingredients or plan a trip to your local Market Street.