Galentine's Day, a celebration of friendships as romantic relationships come and go, is a great way to enjoy the holiday with those that mean the most to you. Celebrate Galentine's Day this year by hosting a special brunch or girls' night in with your best girlfriends.
Get the Party Started
Get your Galentine's Day party started by deciding on a Galentine's theme, whether it's a brunch or girls' night in, and send charming invitations to all of your girlfriends.
Collect props and a fun picture background for a DIY photo booth and set your table with fun and festive accents to tie it all together. Need more party ideas? Check out our blog here on how to throw an entertaining Valentine's Day party.
Galentine's Brunch
Looking to host a Galentine's Day brunch with your best girlfriends? We've got you covered with these Galentine's Day recipes and ideas!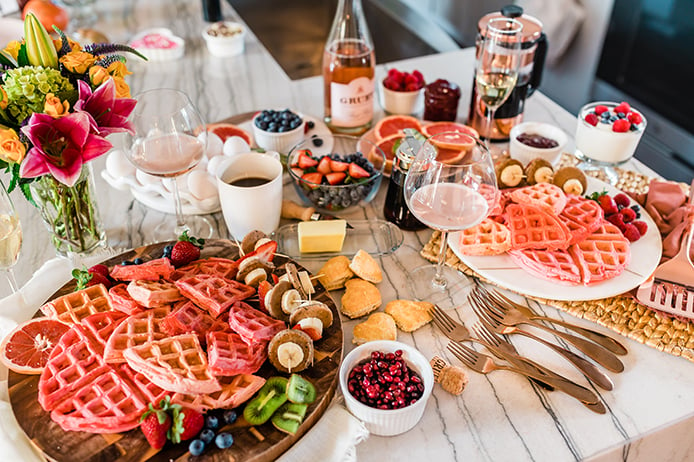 Waffle & Breakfast Spread
What better way to start Galentine's Day than with a darling breakfast spread, full of pink waffles and mini pancakes galore! These Valentine's Day waffles add a girly spin on a beloved breakfast favorite and make for a perfect waffle bar. Check out the recipe here on how to make these breakfast treats adorably pink.
Place bowls of assorted berries, chocolate chips, sprinkles, syrups and more around the festive waffles for a fun build-your-own breakfast. Add yogurt parfaits and mini pancake kabobs using themed paper straws to your breakfast bar for another delectable option for your guests. Don't forget to pair this Valentine's Day spread with mimosas!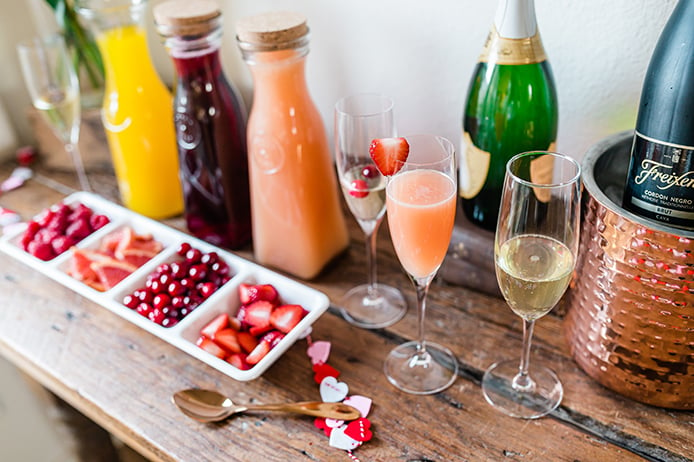 Mimosa Bar
A Galentine's Day brunch wouldn't be complete without mimosas. Break away from the traditional orange juice and champagne to set up a smitten mimosa bar, full of juice options such as cranberry, grapefruit or even pineapple juice to add a fun twist to a celebratory classic.
Simply place each type of juice in a separate glass juice carafe and pop the corks on the champagne bottles. Set out the glasses and watch everyone enjoy! For an extra girly garnish, grab a few berries from the waffle bar and drop them into the glass.
Girls' Night In
Grab that rom com and those wine glasses for a festive girls' night in! There's no better way to celebrate friendships than with a night of fun and entertainment.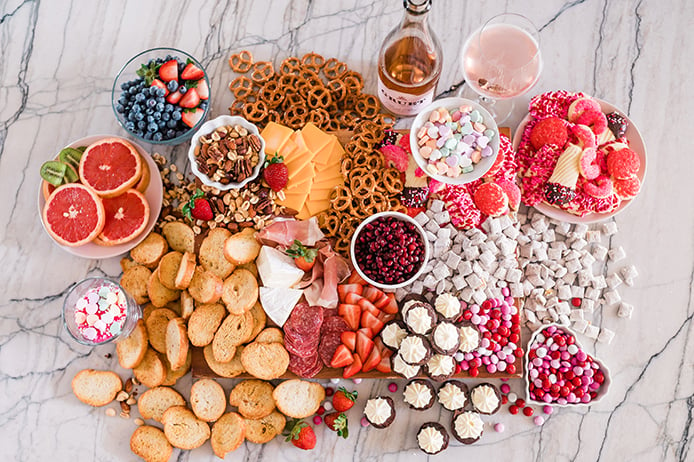 Galentine's Day Grazing Table
While Galentine's Day is a great time to indulge in sweet treats, you also want to make sure you have savory options. This sweet and savory grazing table combines the best of both worlds to provide an adorable snack spread for everyone to enjoy throughout the night. Pair with your favorite wines and an all-time-favorite rom com for a fun girls' night in.
Recreate this captivating spread with our recipe and downloadable table map here!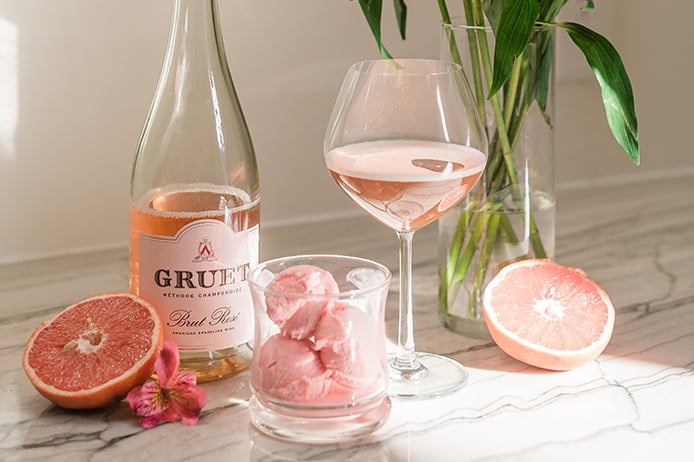 Sparkling Rose Wine Float
If you're looking to try something new instead of traditional wine, we have the perfect Galentine's Day party recipe for you! These Sparkling Rose Wine Floats are extremely delectable and irresistible to all. As easy to make as they are charming, they are the perfect addition to a night full of friendship celebration.
Grab those wine glasses and click here for the recipe on how to recreate this bubbly drink!
Gal Games & Fun Entertainment
Once the rom com is over, don't let the party stop! Add in some fun entertainment during your Galentine's get together with these playful activities that are sure to allow you to get to know your friends better and share a great laugh.
This or That
This fun game is a great way to get to know your friends even better! Fill one out for yourself and share with the group or switch it up and fill one out for someone else, guessing their preferences to see how well you know them! It's sure to spark fun, amusing conversation.
Download and print our lovely Galentine's Day This or That game here for all of your party guests to participate!
Most Likely To
Cherish your friendships by playing a lighthearted game of Most Likely To where you get to select a friend who is most likely to be in the situation listed. Have everyone fill one out and then go around the room saying who you picked for each situation and enjoy a good laugh! It's sure to make memories that will last a lifetime. Download it here.
Make your party everything you want it to be and more with our Galentine's Day recipes and games. Looking to send the girls home with friendship favors? Check out our Valentine's Day gift guide here for some ideas! Shop online for your Galentine's Day necessities or plan your trip to a Market Street near you.
Looking for more party ideas?
Check out this blog on How To Host The Best Valentine's Day Party.