Follow this easy tutorial to recreate this charming sweet and savory grazing table, perfect for celebrating Valentine's Day or Galentine's Day! Download our free table map here.
Step One: Prep Your Table
Prep your grazing table by clearing off your counter or table of choice. Worried about making a mess? Lay down brown butcher paper first for easier clean up later. Place cheese knives and festive bowls around the table as accents.
Step Two: Pick Your Sweets
This adorable snack spread starts with the sweets. Fill your table with your favorite Valentine's Day cookies, brownies and candies. Whether you're preheating your oven or grabbing a few darling options at the store, we recommend choosing a variety of sizes and flavors to maximize your sweet spread. Some of our favorite options are:
Conversation Hearts
Sugar Cookies
Festive Brownie Bites
Valentine's Day Muddy Buddies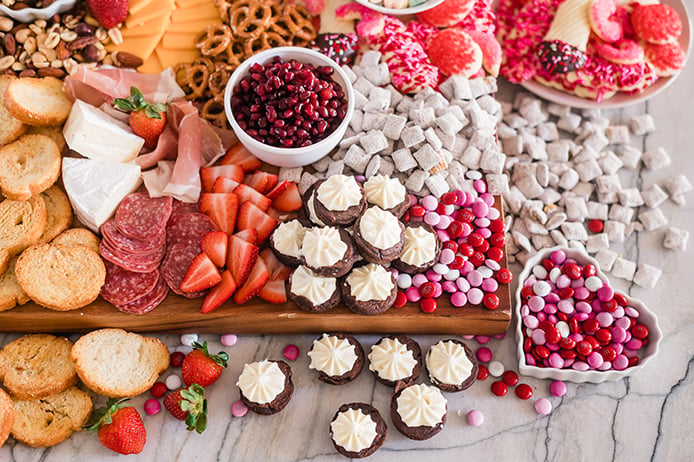 Step Three: Add Your Savory Selection
While Valentine's Day is a great time to indulge in sweet treats, you also want to make sure you have savory options, including cheese and protein. Cheese is the perfect addition. Make sure to include a well-rounded selection of cheeses, with soft, semi-soft and hard cheeses. Soft cheeses may include a brie or goat cheese, a semi-soft cheese may include gouda or cheddar, and finally hard cheeses may include parmesan or aged gouda.
To pair with the cheese, grab a few protein options as well. We suggest a spread of prosciutto, salami or even the chicken salad from our deli to pair with crackers.
Step Four: Bread and Crackers
Don't forget the bread! Include soft bread bites or crunchy crackers for your guests to pair with the assortment of snacks on the table.
Pro-tip: Use a mini heart-shaped cookie cutter to cut out meats, cheeses and breads to add a Valentine's Day flourish.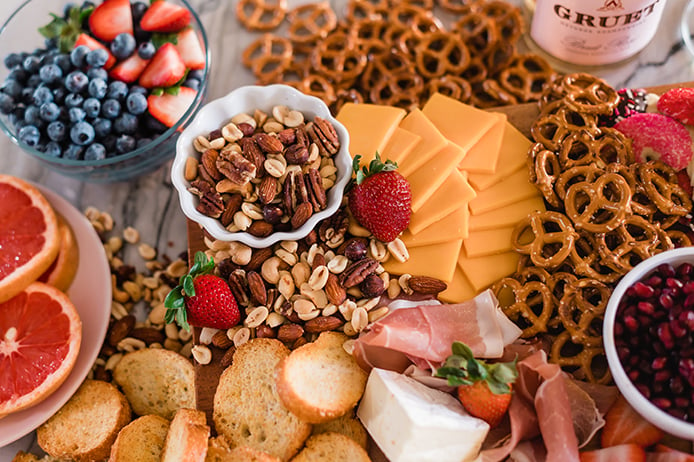 Step Five: Make It Fresh
Don't forget to freshen up the table with fresh produce such as strawberries, pomegranate seeds and grapes. Add texture by incorporating assorted nuts, olives or pickles, and assorted jams.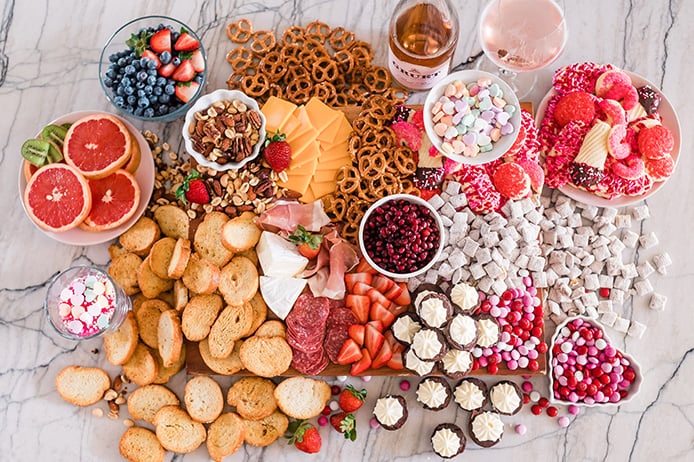 Shop Valentine's Day
Shop online for your Valentine's Day necessities or plan your trip to a Market Street near you.
Looking for more Valentine's Day Themed Dessert Recipes? Search no further! Check out our 3 Sweet Recipes for Valentine's Day blog!