Show your love with a special home-made meal. Skip the busy restaurant and try some of our scrumptious recipes. If you're short on time, place a dinner for two order with our concierge.
Italian-Style Meatballs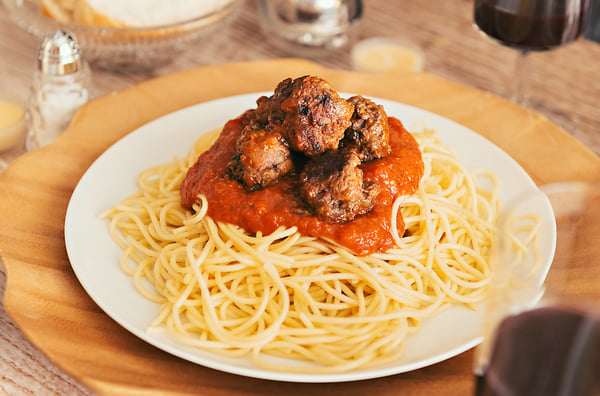 WHAT YOU NEED:
½ cup breadcrumbs
¼ cup milk
4 tbsp olive oil
⅓ cup chopped onion
1 lb ground beef
½ cup grated parmesan cheese
½ tsp pepper
½ bunch flat leaf parsley, chopped
¼ cup basil, chopped
2 eggs
2 garlic cloves, minced
2 (32 oz.) spaghetti sauce
HOW TO DO IT:
Beat both eggs in a large bowl.
Mix in breadcrumbs, milk, olive oil, onion, ground beef, parmesan cheese, pepper, parsley, basil, eggs and garlic - combine thoroughly with hands.
Shape mixture into 1-inch balls.
Coat bottom of skillet with olive oil, and brown meatballs.
In a 5-quart Dutch oven, bring spaghetti sauce to a simmer over medium-high heat.
Add meatballs to spaghetti sauce and bring to a boil. Cover Dutch oven, reduce heat and let simmer for 25 minutes or until meatballs are cooked thoroughly.
Tuscan-Style Grilled Top Sirloin
WHAT YOU NEED:
4 eight to ten-ounce Rancher's Reserve® Top Sirloin Steaks
3 tbsp freshly chopped rosemary
4 cloves of minced garlic
1/3 cup balsamic vinegar
2 1/2 tbsp olive oil
Salt and freshly ground pepper to taste
1 large lemon
HOW TO DO IT:
Mix rosemary, garlic, vinegar, oil, salt and pepper together.
Thoroughly coat your steak in the marinade.
Marinate for at least 30 minutes or up to 4 hours.
Remove steaks from marinade and start grilling!
Top the finished steaks with fresh squeezed lemon juice.
Lobster Nachos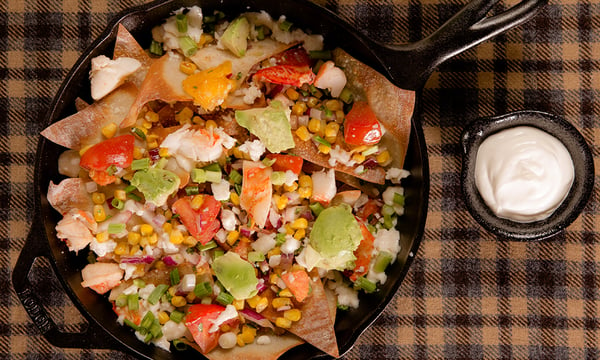 WHAT YOU NEED
1 pound lobster meat - tails and claw meat, cleaned well of shells
1 package wonton wrappers
1 large red onion, diced
1 bunch cilantro, coarsely chopped
2 tablespoons flaxseed oil or sunflower oil
1 tablespoon ghee
2 cups heirloom tomato, chopped
2 teaspoons ground coriander
2 teaspoons ground cumin
3 ripe avocados, diced large
½ cup sour cream
Kosher salt and cracked black pepper to taste
1 lime, cut in half
½ bunch of scallions, finely sliced
1 cup queso fresco, crumbled
HOW TO DO IT:
1. Preheat oven to 400 degrees F.
2. Slice the wonton wrappers on the diagonal to create two triangles from each wonton. Brush front and back of each triangle with oil. Place triangles on a metal baking sheet in a single layer. Bake for 6-8 minutes or until edges are dark brown. Allow triangles to cool on a wire rack.
3. Combine corn kernels, melted ghee and oil and pour mixture in a medium-size pan over medium heat to caramelize the corn. Place the corn in a medium mixing bowl and toss in the red onion, tomato, coriander and cumin. For an extra boost of zest, add cracked black pepper and kosher salt to taste and let it cool.
4. Line sheet pan with a layer of wonton chips. (Don't be afraid to pile them on). Spread chunks of lobster on top of chips. Pour corn salsa mix over lobster and chips. Sprinkle bits of queso fresco. Repeat with another layer of chips, lobster, corn salsa and queso fresco. Place pan under broiler until queso begins to melt.
5. After removing the pan from the broiler, garnish with dollops of sour cream, diced avocado, scallions, more queso fresco and a hint of lime. If you're trying to impress serve on a gorgeous white platter alongside champagne cocktails. May we also suggest paper plates?
Dinner For Two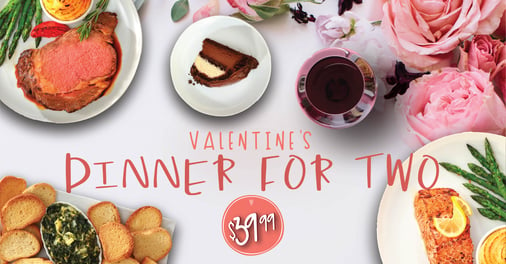 Short on time? Order your Dinner For Two online with Market Street! Choose between Prime Rib or Salmon and get sides like Steakhouse Potatoes, Spinach Artichoke Dip, Garlic Roasted Asparagus & Chocolate Mousse Cake. Visit us in-store at our concierge desk or learn more information here!
For more inspiration check out our Instagram + view more Valentine's Day Recipe ideas here!