What would Valentine's Day be without a little bit of sweetness in it? Treat your special someone or friends to some tasty treats that they will LOVE. Mix it up with some Raspberry Chocolate Cupcakes, Strawberry Shortcake Hearts and Cupid Crispy Treats! Presentation is everything and we can help with that, too!

Raspberry Chocolate Cupcakes
Ingredients
1 1/2 cups flour
1/2 cup Signature Kitchen light brown sugar
1/2 cup granulated sugar
3/4 teaspoon baking soda
1/4 teaspoon salt
1 teaspoon vanilla
4 tablespoons butter
2 ounces semi-sweet baking chocolate, chopped
1/4 cup cocoa powder
1/2 cup boiled water
2 large eggs
1/2 cup buttermilk
1/3 cup sour cream
Chocolate Frosting
Raspberries
Instructions
Preheat oven to 350 degrees. Add 15 liners to cupcake tin.
Mix sugars, flour, baking soda, and salt together and put aside.
Place butter, chocolate, and cocoa together in a bowl and pour boiling water on top. Cover with plastic wrap and let sit two minutes. Mix until smooth and then add in the buttermilk, sour cream, eggs, and vanilla.
Whisk the liquid ingredients into the dry until smooth.
Pour 1/4 cup batter into each paper liner. Bake for 17-20 minutes or until toothpick comes out clean.
Let cupcakes cool for 5 minutes before removing from tin.
Frost cupcakes and add a raspberry to the top of the cupcake.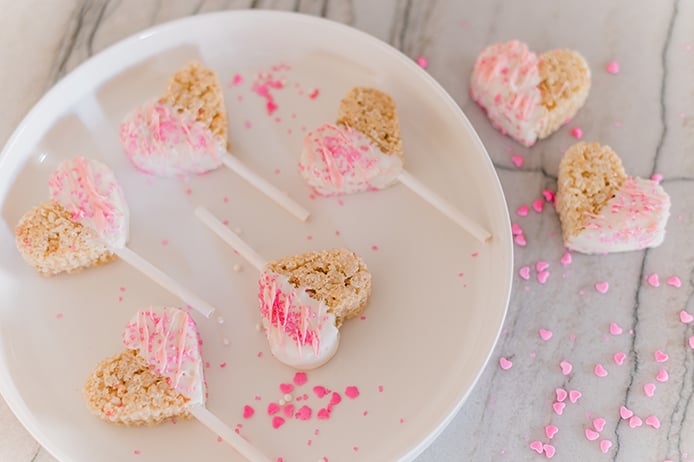 Cupid Crispy Treats
Ingredients
6 cups of Signature Kitchens Crispy Rice Cereal
1 bag of marshmallows
4 tbsp of butter
Red Food Coloring
2 cups of white chocolate chips
Festive sprinkles (optional for garnish)
Paper straws/skewers/lollipop sticks
Instructions
Melt the butter in a large saucepan and once it's almost melted, add in your bag of marshmallows. Stir on low heat until they are melted.
Once melted, add in the Signature Kitchens Crispy Rice Cereal and stir until well combined
Place wax paper into a dish, and press the mixture on top of the wax paper. Refrigerate to chill.
After chilled, remove the treats from the fridge and pull the wax paper out to place the treats on a flat surface.
Using a heart-shaped cookie cutter, strategically cut out hearts from the mixture. If you flip the cookie cutter every other heart, it will allow you to get more out of your slab of mixture.
Place a festive paper straw or stick into the bottom of each heart-shaped treat.
In a microwave-safe bowl, microwave the chocolate on high for 1 to 1 ½ minutes, stirring every 30 seconds, until completely melted.
Dip the top of the heart-shaped rice crispy treats into the chocolate and place back on wax paper that is placed on top of a pan for easy moving.
After all treats have been dipped into chocolate, add red food coloring to the remaining chocolate (add a little for pink and more for a deeper red). Using a spoon, drizzle the red or pink chocolate on top of the hearts for a colorful touch.
Top with sprinkles or finishing decorating as desired. Refrigerate the treats until chocolate is set.

Strawberry Shortcake Hearts
Ingredients
1 can Pillsbury Original Grands Biscuits
3 cups strawberries, sliced
1 1/2 cups heavy whipping cream
2 Tablespoons granulated sugar
Powdered sugar
Instructions
Preheat the oven to 350 degrees. Line a cookie sheet with parchment paper.
Using a heart shaped cookie cutter, press down on each biscuit to end up with a heart shaped biscuit.
Place each biscuit onto the cookie tray.
Bake in the oven for 13-15 minutes until the top of the biscuits are golden brown.
Cool for 10 minutes.
Combine the heavy cream and granulated sugar together in a medium bowl.
Whisk until the cream is soft.
Cut the biscuits in half and place strawberries on the bottom half of the biscuit to cover the base.
Spoon cream onto the strawberries and place the top half of the biscuit onto the cream.
Dust with powdered sugar and serve.

Put some LOVE into your presentation!
Now that you have your sweets ready to eat, make your dessert selection fun and cute with these simple tips. 1. Dress your table in colors that compliment your desserts like red, pink or white. 2. Add small touches to enhance the fullness of the table display with other small treats like Hershey's Kisses. 3. Use cake stands to elevate some of your desserts. 4. Add a floral center piece to bring it all together.
If you don't have a lot of time to make your own desserts, be sure to pick up some easy grab and go items like Brownie Squares, Valentine's Day Themed Thumbprint Cookies, Wine or a Floral Arrangement! For more inspiration, check out our Instagram here + view more Valentine's Day ideas here!
Looking for some more Valentine's Day Themed Ideas? Be sure to check out our Valentine's Day Date Ideas blog.