Classic cocktails like Old Fashioned, Gin and Tonics and French 75s never go out of style. What gives them their longevity? Basic combinations and liquor forward sips. There are no bells and whistles on these elixirs. Yet, because of the minimal ingredients and straightforward flavor, there will always be room to dress up the drink when you have a few fresh ingredients available.
Another classic, the Brandy Smash, falls into this category of basic preparation and few ingredients. Sugar, water, brandy and mint are the four requirements to make this drink. Adding bells and whistles is tempting and is exactly what I did with spring-fresh strawberries.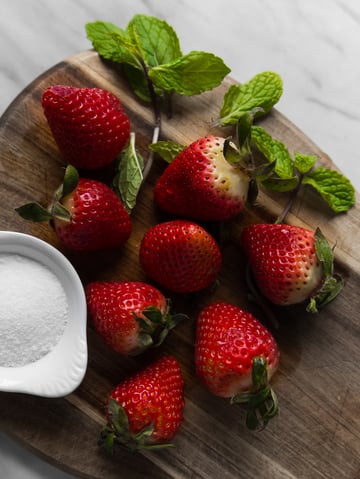 Market Street's produce season is always blooming. Their varieties of spring strawberries are always enticing (and so are their buy-one-get-one free specials!)—and so with every weekly (okay, bi-weekly) trip to Market Street I find myself putting a bundle or two of strawberries in my cart.
There's always something to make or eat with strawberries! If you want to try something new that's not strawberry jam or strawberry fruit salad, why not Strawberry Brandy Smash?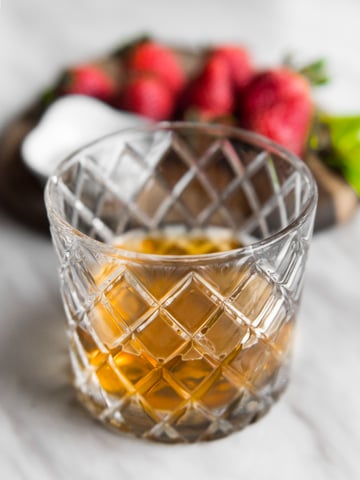 Take a handful of strawberries fresh from Market Street, remove the leaves and dice. Place into a cup, top with two teaspoons of sugar and fresh mint. Muddle them with the handle of a wooden spoon. Once the berries are mushy and have released some of their liquid add some ice and pour chilled brandy into the cup. Top with sparkling water and stir. To dress the drink up add a mint sprig!
A Strawberry Brandy Smash is an easy and delightful drink to celebrate spring and all things strawberries. Cheers to Market Street, strawberries and sunnier days!
Strawberry Brandy Smash
Makes 1 drink
Author note: Use the back of a wooden spoon to muddle.
2 strawberries, leaves removed and quartered
1 tsp sugar
4 mint leaves
ice
2 ounces brandy
1 to 2 tbsp. sparkling water
In a flat-bottomed glass, muddle the strawberries, sugar and mint. Muddle until a paste forms and the strawberries are well smashed.
In a shaker, add ice and brandy. Shake until chilled.
Add ice to the serving glass with the muddled strawberries. Pour the brandy over the ice and top with sparkling water and a mint sprig. Serve immediately.