Spring has arrived and many fresh veggies are popping up green in the produce department at Market Street! Home cooks rejoice with the arrival of April—this month ushers in the seasons of the year that produce bright, flavorful vegetables that require little (or no) cooking.
Asparagus is the leader of spring produce. Its long, slender profile stands tall among the onions, carrots, lettuces and radishes that are beginning to flourish. I'm always quick to grab a bundle (or three!) during this time of year to utilize its seasonal bounty.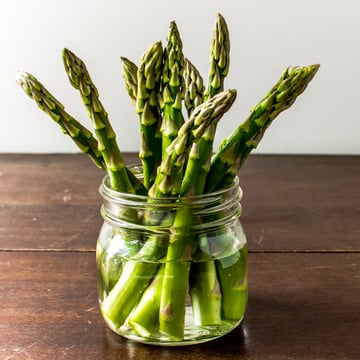 From roasting to sautéing to steaming, asparagus is a flavorful, versatile and a quick cooking vegetable. While this vegetable is sturdy enough to stand on its on as a single side entrée, it can also be paired with buttery puff pastry to make a tantalizing main dish, appetizer or side.
Asparagus Gruyere Puff Pastry Bundles are delicate yet filling, flavorful AND easy; they are the perfect companion to Spring when the evenings are still crisp and family activities are in full swing.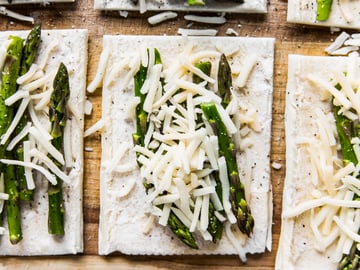 Bundled inside buttery puff pastry are seasoned asparagus and grated gruyere and Swiss cheeses. Once the prepped asparagus have been placed on top of puff pastry dough and topped with cheese, they will be brushed with melted butter and topped with a sprinkling of salt. Pop this vegetable delight into the oven and bake until golden.
While the base recipe is straightforward, this recipe can also be tweaked to fit your cravings and schedule.
Asparagus Gruyere Puff Pasty Bundles
Prep Help! Short on time? Utilize the cooks at Market Street who daily prepare items to simplify your life. Grab a package or two of prepared asparagus from the food-to-go department and you just saved 10 minutes of work.
Make Ahead! These bundles can be prepared a few hours before bake time. Prepare as instructed, but don't top with the melted butter and salt. Once they are prepped, cover with foil or plastic wrap and pop into the fridge. When ready to cook, top with the butter and salt and then place into a hot oven. Cook until golden!
Add More Protein! If you're craving protein with this recipe, there's an easy solution! Browse Market Street's deli and grab what sounds good. Prosciutto, sliced salami or ham would be delicious additions to these bundles.
Seasonal cooking is not only rewarding but it's also delicious. Have fun with the bounty of this season's best and let your kitchen start being green!
Asparagus and Gruyere Puff Pastry Bundles
Serves 4-9
Author note: This recipe is easily halved. The amount of sheet pans used for this recipe will be dependent upon their size. For easiest eating, use a fork and knife. However, if you would like this to be more of a handheld bite, cut the asparagus into bite-sized pieces before placing onto the pastry dough. If you would like different cheeses, mozzarella and parmesan would also work!
sprayable canola oil
2 tsp red wine vinegar
1 tbsp extra virgin olive oil
1/2 tsp black pepper
1 1/2 tsp kosher salt, divided (plus more for topping)
1/4 cup melted unsalted butter
1 pound asparagus, woody ends trimmed and removed
Gruyere cheese, grated
Swiss Emmental, grated
fresh chives, chopped (optional)
1 package puff pastry (with two sheets of dough), thawed
Heat the oven to 400 degrees F. Line one to two rimmed sheet pans with foil. Place a cooling rack on top of each sheet pan and spray the cooling rack with canola oil. Set aside.
In a large bowl, combine the vinegar, oil, pepper and salt. Set aside. Cut the asparagus in half and place in the bowl with the oil and vinegar. Stir to thoroughly coat the asparagus.
Remove the puff pastry dough and place on a floured work surface. Using a pizza cutter or knife, create 12 rectangles or squares. Add a sprinkling of additional salt and pepper on top of each rectangle. Place six to eight asparagus in the center of each rectangle (this will vary depending upon the size of the asparagus and the puff pastry rectangle). Add grated gruyere and Swiss cheese on top of the asparagus. Top with chopped chives.
Brush the exterior rim of the puff pastry with the melted butter. Sprinkle each bundle with a pinch of kosher salt. Place the bundles on the cooling rack. Place into the oven and bake for 25 to 30 minutes, or until golden brown. Remove from the oven and while still hot, brush the top and sides of the bundles with the leftover melted butter. Serve immediately.