Simple, low and slow is the name of the game for this chili recipe. After a 5 to 7 hour cook in your well-loved slow cooker, this chili will become a fan favorite with its unmatched flavor.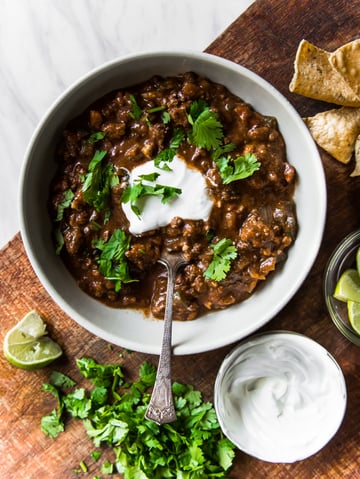 A Texas-inspired chili, this recipe contains ground beef, jalapeños, green bell pepper and no beans. The texture is thick and the flavor is rich and deep. I have been able to easily achieve terrific texture and flavor with a few hidden secrets.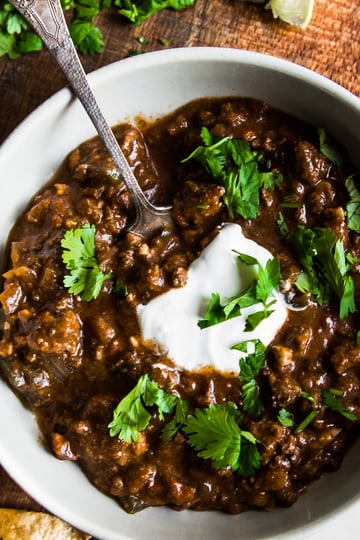 Slow Cooker Ground Beef Chili
Serves 6 to 8
Author note: If your knife skills are efficient and you don't mind multi-tasking while cooking, I suggest prepping the vegetables while the pancetta and ground beef cook. This will be a time saver, albeit a bit high intensity. If this gives you stress, prep all vegetables before the cooking process begins. This chili is perfect to serve as a "make-your-own chili''. To do this, have at the ready a handful of your favorite dips and toppings from Market Street. Some of my favorite combinations are at the end of the recipe.
browned tomato paste
soy sauce
pre-cut pancetta
panko breadcrumbs
soy sauce
ground cloves
These five ingredients are what sets this chili apart from other ground beef slow cooker recipes. The browned tomato paste and soy sauce gives it quick umami without much hassle. Market Street offers a pre-cut pancetta in the deli refrigerated section that contributes to slight pork and peppery flavor to the chili (without having to slice bacon!). Lastly, the ground cloves add a hint of warmth and spice not found and very mini chilies.
This slow cooker chili is one to save and to keep handy because there is minimal work involved. After about 15 minutes of prep this chili will be simmering in the slow cooker ready to be enjoyed after 5 to 7 hours.
This chili feeds a crowd and one thing I know about serving a large group of people, is that everyone has their own idea of what makes for a good chili topping. Create a "build your own chili bar" when serving this meal to allow your guests to top their chili with all the goodies they love.
Let Market Street do the work for you and choose from the great selection of toppings available with their Ready Made Meals. Seven Layer Dip! Guacamole! Bacon Cheddar Ranch Dip! Pico de Gallo! These premade Market Street concoctions are perfect to top Slow Cooker Chili.
Enjoy these last few evenings of cooler weather with Slow Cooker Chili and make dinner fun with a unique variety of toppings!
HOW TO MAKE
1/2 cup diced onions
2 jalapenos, seeded and diced
1 large green bell pepper, seeded and diced
1 tbsp canola oil
1 4-ounce package pre-cut pancetta
2 lbs ground beef
1 tsp kosher salt
2 tbsp tomato paste
3 cups low-sodium beef stock
1/2 cup whole milk
1 14-ounce can crushed tomatoes or unsalted diced tomatoes
1 tbsp low-sodium soy sauce
1/4 cup panko breadcrumbs
1/4 tsp ground cloves
1/2 tsp black pepper
1 tsp oregano
1 tsp granulated garlic
1 tbsp cumin
2 tbsp chili powder
Turn the slow cooker to warm and place the onions, bell pepper and jalapenos inside. Cover and set aside.
In a large skillet, add the oil and pancetta. Cook over medium heat until the pancetta has rendered its fat, about 5 minutes. Using a slotted spoon, remove the pancetta and place into the slow cooker and cover.
Increase the heat to high and add the ground beef and salt. Brown the beef, about 8 to 10 minutes, stirring occasionally and draining the fat as you cook (to brown the meat more effectively). Reduce the heat to medium and add the tomato paste. Stir to combine and brown the tomato paste, about 2 minutes, stirring often. Pour the beef stock into the pan and deglaze. Be sure to scrape any browned pieces stuck to the bottom of the pan.
Pour the beef mixture into the slow cooker. Add the milk, tomatoes, soy sauce, panko, cloves, pepper, oregano, garlic, cumin and chili powder. Stir to combine and cover. Cook on low for 6 to 7 hours or high for 5 hours.
Serve with your favorite Market Street salad bar or food-to-go toppings. Below are a few of my favorite combinations!
guacamole + pico de gallo
bacon ranch dip + crumbled Market Street tortilla chips
sliced cherry tomatoes + cooked rice
queso + bakery fresh tortillas
seven layer dip + tortilla chips