A simple 6-ingredient quick pickle is waiting to transform your kitchen forever.
Quick Pickled Shredded Carrots is a recipe that combines kitchen staples (like red pepper flakes and honey) with a few Market Street staples (like seasoned rice vinegar and shredded carrots) to create a lovable and easy pickle recipe! Once your create your first batch you'll find yourself topping salads, tacos and grilled meats with this easy dinner accessory.
What makes this recipe so lovable, you ask? Well, let me dive into its glory!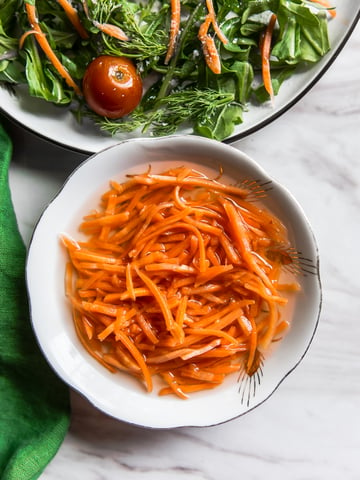 The main ingredients, carrots and vinegar, is already prepped for you. By utilizing the pre-shredded carrots available in Market Street's produce department all you'll need to do is open the bag of carrots and pour it into a bowl to start the pickle process. Also, seasoned rice wine vinegar, located at Market Street's oil and vinegar section, already contains salt and sugar, so your brine will only need minimal seasonings.
There's only 3-steps to this pickle recipe: brine, pour and wait. The only cooking required is the creation of the brine. Water, vinegar, salt, mustard seeds, red pepper flakes and honey is combined into a small saucepan. After 5 minutes (or less!) of simmering the brine is poured over the carrots and the pickling process has begun! All that's needed now is time.
Besides this recipe being quick to assemble, this pickle is practically perfect in its usability. Below are just a few meal combinations that will make this quick pickle a staple on your dinner table.
Shrimp Tacos: Grab a pre-seasoned pack of shrimp at Market Street and once the shrimp is cooked at home fill the tortillas with all the goodies!
*grilled shrimp + guacamole + pickled shredded carrots + queso fresca*
Black Bean Soup: Pop over to A Pleasant Little Kitchen and use this quick Blender Black Bean Soup (click here for recipe) recipe and once prepared start topping!
https://apleasantlittlekitchen.com/recipe/featured-categories/8-ingredients-or-less/blended-black-bean-soup-with-pico-de-gallo/
*black bean soup + Market Street pico de gallo + cilantro + pickled shredded carrots*
Arugula Parmesan Salad: Combine organic arugula, pickled shredded carrots, cherry tomatoes, fresh basil and dill, and grated Parmesan to create a delicious salad. Toss the salad with the brine from the pickles and olive oil.
*arugula + pickled shredded carrots + cherry tomatoes + basil and dill + grated Parmesan cheese*
Quick Pickled Shredded Carrots Recipe
servings vary
Author note: Don't fret if the carrots are not completely submerged in the pickle brine. During the marinading process the carrots will relax and eventually be submerged. Feel free to press down on the carrots with a spatula or the back of a wooden spoon. The mustard seed and fresh dill are optional ingredients.
1 10-oz bag shredded carrots
2 sprigs fresh dill (optional)
1 cup seasoned rice wine vinegar
2 tbsp water
1/2 tsp kosher salt
1/2 tsp yellow mustard seed (optional)
1/2 tsp red pepper flakes
2 tsp honey
Place the carrots and dill into a large shallow bowl. Place the vinegar, water, salt, mustard seed, red pepper flakes and honey into a saucepan. Bring to a boil.
Pour the brine over the carrots and stir. Let sit for 10 minutes. Let cool for another 10 minutes. Stir and serve warm or cover and place into the fridge to chill.