Popovers with Strawberry Butter is quintessential Dallas. This legendary bite, made famous by Neiman Marcus, is beloved by many, including myself and my daughter.
There's nothing quite like sitting down to lunch on a special 'girls day' and be served warm popovers with a dollop of strawberry butter. The first bite is heavenly—buttery, light and just a tad bit sweet. With a starter like that, the diner knows the remaining meal will be a delight.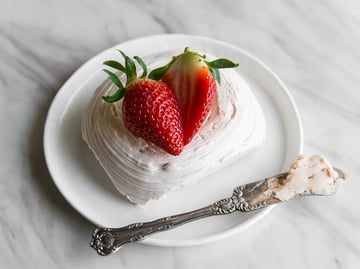 There is no one else I would rather share this special moment with than my daughter. Yet, because it is so special, I wanted to bring that experience home to our own kitchen to enjoy it (and bake it together) whenever we crave.
Popovers are one of the easiest made-from-scratch bread. Flour, salt, milk, butter and eggs is all that is needed to make these voluminous muffin-like bites. There's no kneading or rising involved. Just whisk, stir, pour and bake!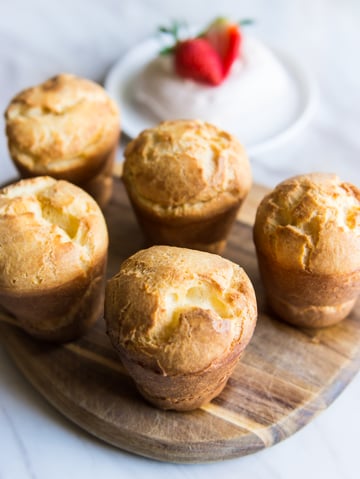 Whisk the dry ingredients! Stir in the liquid ingredients! Pour the batter into the pop-over tin! Bake! Easy peasy.
What makes this recipe even more simple is the Strawberry Butter. Market Street has a powerhouse product with its bakery made Strawberry Honey Butter. This condiment is one of my most absolute favorite items found at Market Street. The butter is creamy, soft yet sweet and delicate. It is not only the perfect partner for popovers but also any type of toasted or bakery crusty bread.
This spring, bring Popovers with Strawberry Butter into your kitchen. Combine your kitchen with Market Street's and share it with the ones you love, making this recipe a food legend of your own!
Popovers with Strawberry Butter
makes 6 popovers
Author note: This recipe can also be used in muffin tins. The Strawberry Honey butter can be found at the Market Street bakery.
1 tsp unsalted butter, melted (plus more, softened for greasing the pan)
1 1/2 cup flour
3/4 tsp kosher salt
1 1/2 cup whole milk
3 eggs
Market Street's Strawberry Honey Butter
Heat the oven to 400 degrees F. Once the oven is hot, begin to combine the ingredients.
Generously grease the popover pans (or muffin tins) with butter. Set aside. In a large bowl whisk together the flour and salt.
Add the milk and melted butter to the flour mixture. Stir to combine. Add the eggs, one at a time and stir until combined (with only a few lumps remaining in the batter). Pour the batter into the popover pan, filling only halfway. Place into the oven and bake for 35 to 40 minutes, or until the outside is golden brown. If using a muffin tin, check after 25 minutes of cooking and remove if golden brown.
Remove from the oven and serve with Market Street's Strawberry Honey butter.