Cherries are a summer favorite for many and we've got a couple of varieties to satisfy that sweet tooth. We offer both sweet red and rainier cherries, both of which are delicious options with unique qualities. While you can tell the physical difference between the two at a glance, the texture and flavor also vary. Keep reading for everything you need to know about the different types of cherries we offer.

Sweet Red Cherries
These cherries are one of the country's favorites and range in color from bright red to deep mahogany. They are large in size and also have a firmer texture than other cherries such as sour cherries. Sweet red cherries have the classic cherry flavor we all know and love, and are sure to sweeten up your summer.
When it comes to enjoying sweet red cherries, their flavor and texture often work perfectly for jams, sauces, tarts and other desserts. This rich sweet flavor is versatile, making a decadent treat that can be eaten out of hand or cooked into recipes.
Click here to learn more about this summer treat and find scrumptious cherry recipes.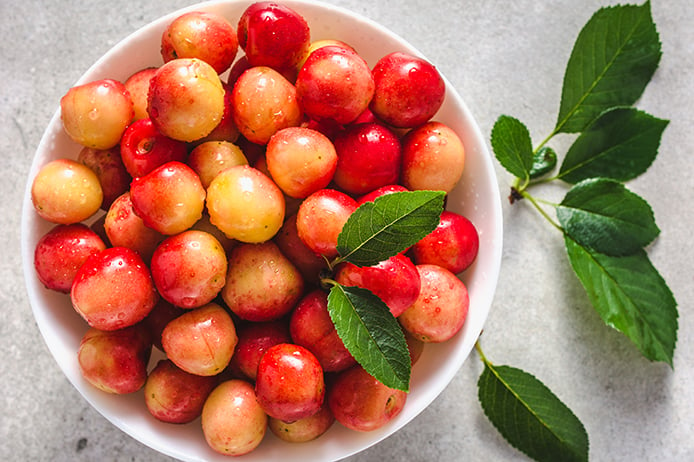 Rainier Cherries
This particular kind of cherry is actually a cross between the Van and Bing Cherry, named after Mount Rainier in Washington. These delicate cherries have a creamy yellow flesh and an outer skin that is often blush or a mix of bright red and yellow.
Rainier cherries have a lower acidity level than sweet red cherries, which actually leads to higher sugar content. The flavor of these cherries makes them best for fresh salsas and salads, as well as eating out of hand for a delicious snack.
Next time you're in store, stop by the produce section to grab some cherry, summer sweetness. After purchasing fresh cherries, store them in the refrigerator until you are ready to eat. Enjoy cherry season while it lasts.
Happiness is in a handful of bowl so grab yours today! Shop online or plan a trip to your local Market Street.