Within the never-ending fun of the holiday season, dinner still has to be made. And while we want to make every meal themed throughout the month of December, the reality is that not everything can be shaped like a candy cane, Santa face or a snowman. Nor should it, truly.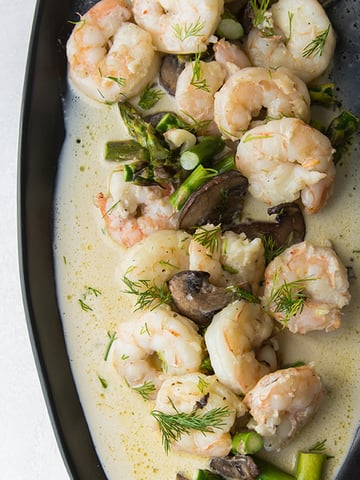 Yet, during this season of festive events and responsibilities, easy meals are very very appealing.
Market Street and A Pleasant Little Kitchen want to help. If there was any gift you needed this season it's an easy, delicious (and gluten free!) one-pan wonder. One Pan Creamy Shrimp with Asparagus and Mushrooms is a one-pan, eight-ingredient, 12-minute present from us to you!
This meal is a treat because it is fast, flavorful and versatile.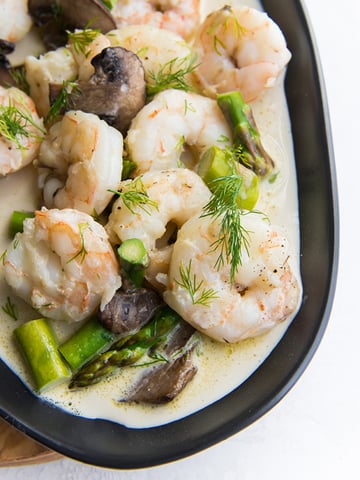 Market Street has all the goods you need to make a practically prep-less meal: pre-packaged sliced mushrooms, freshly peeled garlic cloves (in the refrigerated section of the produce department!) and shelled and deveined shrimp. All that is required from you is a baking pan, quick chop of asparagus and garlic, a few pours and stirs and a warm oven. It's one of the easiest, homemade dinners you will ever make
One Pan Creamy Shrimp with Asparagus and Mushrooms is a hearty and filling meal made quick and easy. It's versatility allows you to serve with a variety of sides. Below are a few options!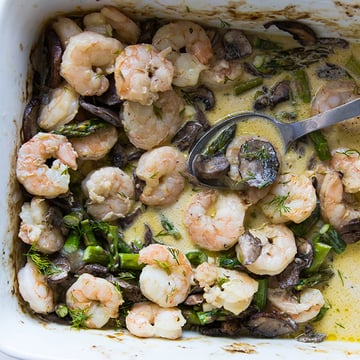 Pasta or Rice: Always a go-to, pasta and rice are quick and simple sides to serve that make any dish comforting. It's also perfect for this one-pan wonder because the creamy sauce needs a carb or two to capture its flavor.
Salmon! Chicken! Baked Potatoes! : The perfect partner to an easy dinner, Market Street has a variety of options to be found in the Food-to-Go department. Grab a precooked salmon, chicken breasts or even baked potatoes. All three items can gently warm, while you are quickly prepping this one-pan wonder. Surf and Turf never tasted this good!
Crusty Bread: Snag a freshly baked baguette from Market Street's bakery and make the most decadent toasts you've had in a while. Slice the baguettes and spread Market Street's flavored compound butter (garlic is my favorite!) and toast in the oven. Serve the creamy shrimp and veg on top of the toast and sip on a glass of prosecco.
Here's to easy cooking in the most wonderful time of the year!
WHAT YOU NEED:
One Pan Creamy Shrimp with Asparagus and Mushrooms
Serves 4 to 6
8 ounces sliced mushrooms
1 1/2 lb shrimp, peeled and deveined
1 lb asparagus, (woody ends removed) chopped
4 tbsp unsalted butter, diced
3/4 cup heavy cream
1 tsp kosher salt, divided
1/4 tsp red pepper flakes (optional)
1 tsp red wine vinegar
5 cloves of garlic, chopped
Freshly ground black pepper, to taste
3 tbsp fresh basil, chopped
1 tbsp fresh dill, chopped
Adjust the oven racks to the third level from the broiler. Heat the broiler to 550 degrees.
Place the mushrooms and asparagus into a baking pan. Top with the cream, 1/2 tsp salt and red pepper flakes (optional). Stir to combine. Top with the butter and place into the oven and broil for 4 minutes.
Remove the baking dish from the oven and add the vinegar and garlic. Stir to incorporate. Top the vegetables with an even layer of shrimp. Evenly distribute 1/2 tsp salt and freshly ground pepper to taste. Return the baking dish back to the oven and cook for 4 minutes.
Stir the shrimp cook for additional 2 to 3 minutes or until the shrimp is cooked all the way through. This time will vary depending upon the size of the shrimp used.
Remove from the oven and top with fresh basil and dill. Serve with pasta and a green salad.