Red curry can be made in a hurry in this weeknight braised chicken tender recipe! Coconut Red Curry Braised Chicken Tenders is a one-pan wonder that will have a rich and filling meal ready for the table in 20 minutes.
he combination of red curry paste and coconut milk is classic. The addition of the sliced bell peppers and fresh basil adds a touch of sweet earthiness to the flavorful base of curry and coconut milk. Fish sauce brings saltiness and quick umami to the overall dish. This curry in a hurry is full of tantalizing flavors.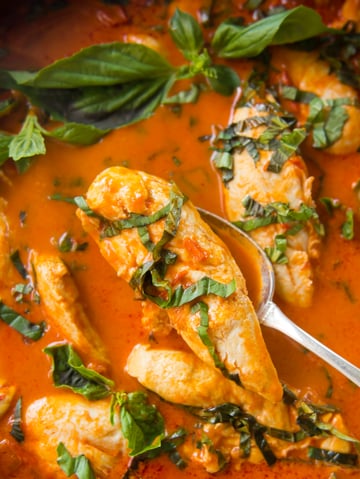 It's a cinch to put together, too! Once the red curry broth is simmering the chicken tenders go into the mixture and cook for only 8 minutes. Serve this flavorful meal with either cooked jasmine rice or rice noodles!
This recipe is a dream come true when you're craving Thai flavors and a simple weeknight meal (which is me every single week!).
Unsure about the Thai flavors or you don't have them readily stocked in your pantry? Don't fret, my friends! Market Street has an ample supply of international ingredients. Pop down the international aisle and you will find fish sauce, red curry paste, coconut milk, jasmine rice and rice noodles. All the ingredients needed to create this meal.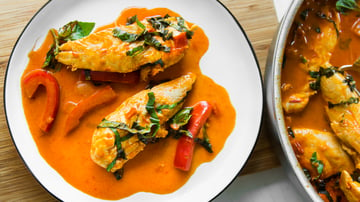 If you're not in the mood for chicken, seafood would also be an excellent substitution in this recipe. Head over to Market Street's fish monger and they can provide you shrimp or even fish filets that would be delicious in this one-pan meal.
A delicious, Thai-inspired dinner can be done with ease thanks to Market Street's selection of quality ingredients and this winner of a recipe, Coconut Red Curry Braised Chicken Tenders.
Coconut Red Curry Braised Chicken Tenders Recipe
Serves 4 to 6
Author note: Adding other vegetables to the cooking liquid will make this dish more hearty. I enjoy sliced Japanese eggplant.
2 tbsp canola oil
4 cloves of garlic, chopped
1 to 2 bell peppers, quartered and sliced
3 tbsp red curry paste
1 cup low-sodium chicken stock
1 14-ounce can coconut milk
2 tsp sugar (plus more to taste)
1 tbsp and 1 tsp fish sauce
3 sprigs basil leaves
fresh juice from 1 to 2 limes
1 1/2 to 2 lbs chicken tenders
kosher salt to taste
cooked jasmine rice
In a large skillet, add the oil, garlic cloves and bell peppers. Cook over medium heat for 3 to 5 minutes. Add the curry paste and press down with the back of a spoon to smear evenly throughout the pan. Let the paste cook until fragrant, about 1 minute. Add the chicken stock, coconut milk, sugar, fish sauce, basil leaves and fresh lime juice. Stir to combine, bring to a boil and reduce heat to a simmer. Taste and salt to preference.
Add the chicken tenders to the curry and turn to coat. Cook over medium heat for 8 to 10 minutes, or until the chicken tenders reach 160 degrees.
Remove from the cooktop. Serve the coconut red curry chicken tenders with cooked jasmine rice.