Holiday baking is the epitome of kitchen fun, especially when chocolate is involved. Peppermint Milk and Chocolate Cookies are an easy and delicious way to embrace the festive Christmas season!
Whether you're baking to indulge in chocolatey goodness or to package in boxes to gift to friends, Peppermint Milk and Chocolate Cookies are worth the floury time in the kitchen!
Chocolate peppermint Drop Cookies

Melt, whisk, scoop and top are the four steps of baking for this cookie recipe. And if your family is anything like mine, the moment the mixer is turned on, little feet run into the kitchen to see what delicious baked goods are in the works.
This recipe is the perfect baked good to have little hands help. Not only for the simple mixing and scooping but also for the easy (and addictive!) Peppermint Milk. Enlist their help to sift the powdered sugar and top with the crushed peppermint. When it's time to serve the cookies, have your little helpers add the crushed peppermint to the cold milk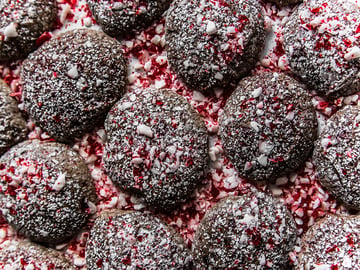 If you're looking for even more festive toppings, Market Street has an ample selection of holiday sprinkles. From Christmas trees to bright festive colors, a quick pop into the baking aisle will result in a lot of sprinkles, especially if you let your kids do the shopping!
What's also great about this recipe is the quick bake time. Patience is not required when baking these cookies. 10 minutes is all it takes to bake these chocolate kisses. Once cooled, you'll be enjoying chocolate treats two or three at a time!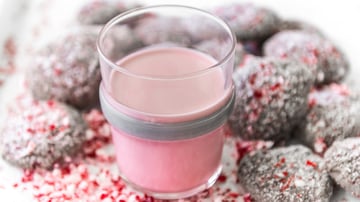 Oh, and don't forget to make a batch of milk and cookies for Santa! They are the perfect size to bundle up on Christmas Eve, to give as party favors or to send as thank-you! Pop over to the Dish Department and see what special types of holiday packaging Market Street has to offer. There's always something fun to find!
Holiday baking is one of the best ways to bless and spend time with others. Let Market Street help you give the gift of baked love to those around you. Happy baking and Merry Christmas!
WHAT YOU NEED:
Peppermint Milk and Chocolate Cookies
makes 18 to 24 cookies
1. 8 ounce s German baking chocolate
2. 3 tbsp butter
3. 1/2 cup sugar
4. 2 eggs
5. 1 tsp vanilla extract
6. 1/4 tsp salt
7. 1/4 tsp baking powder
8. 1 1/2 cup flour
9. crushed peppermint, to top
10. powdered sugar, to top
11. Peppermint Milk (see recipe below)
How To make!
Heat oven to 350 degrees. In a medium-sized bowl, combine the flour, salt and baking powder. Set aside.
Using a double-boiler, melt the chocolate and butter over low heat, about 8 to 10 minutes. Stir occasionally.
With an electric mixer whisk the eggs, sugar and vanilla until foamy. Continuing to whisk, slowly add the chocolate mixture into the eggs. Once combined, add the flour mixture 1/4 cup at a time. Whisk to combine. Be sure no white clumps of flour are visible in the mixture.
Using a small ice cream scoop or tablespoon, drop the cookies onto the parchment- lined sheet pan. Top the cookies with crushed peppermints and sifted powdered sugar. Bake for 10 minutes, or until set. Remove the cookies from the oven and let cool on the sheet pan for 5 minutes.
Remove the cookies from the sheet pan and place onto a cooling rack. Continue to cool for 5 to 10 minutes. Serve with Peppermint Milk.
for the Peppermint Milk
crushed peppermint
whole milk
Place two tablespoons of crushed peppermints into each serving glass. Top with cold whole milk. Stir to combine and let sit for 3 to 5 minutes to infuse the milk. Serve cold with warm Chocolate Cookies.