Smoothie bowls are all the rage right now, and for good reason! These bowls are appetizing to both the eye and the stomach, and we have a recipe that is sure to leave you wanting more. What better way to make a smoothie bowl even better than by making it with one of summer's favorite fruits: cherries! Click here to learn more about this decadent fruit.
Perfect for breakfast or as a sweet snack, this Cherry Smoothie Bowl has a variety of flavors and textures that will leave you full for hours. Grab those cherries and get blending!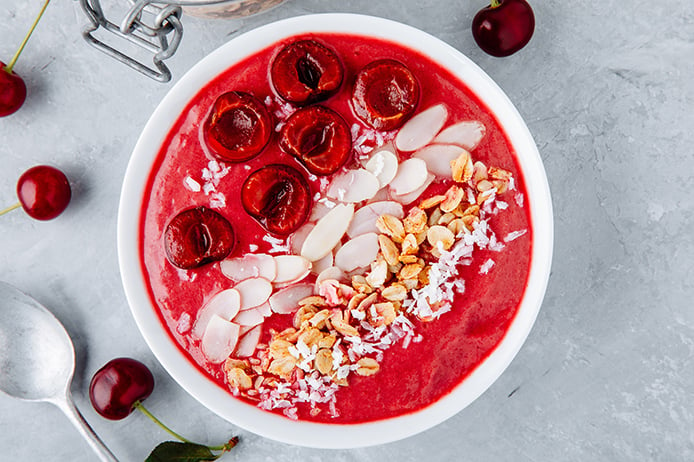 Cherry Smoothie Bowl
Shopping List
2 tbsp milk

1 tsp vanilla extract

1 banana, chopped

Extra cherries, halved, for garnish

Grated coconut, for garnish

Granola, for garnish

Slivered almonds, for garnish
Roll Up Your Sleeves
Combine chopped cherries, banana, milk and vanilla extract into a blender.
Blend on high, until smooth.
Place in a bowl of your choosing and top with halved cherries, slivered almonds, coconut and granola.
Enjoy!
Enjoy cherry season while it lasts! We all know happiness is a bowl of cherries so grab yours today. Get everything you need to make this delicious recipe online or plan a trip to your local Market Street.