Post and images by guest blogger, Rebecca White, of A Pleasant Little Kitchen.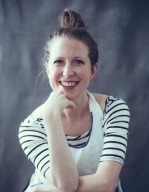 Visit her full blog or find out more about her here.
---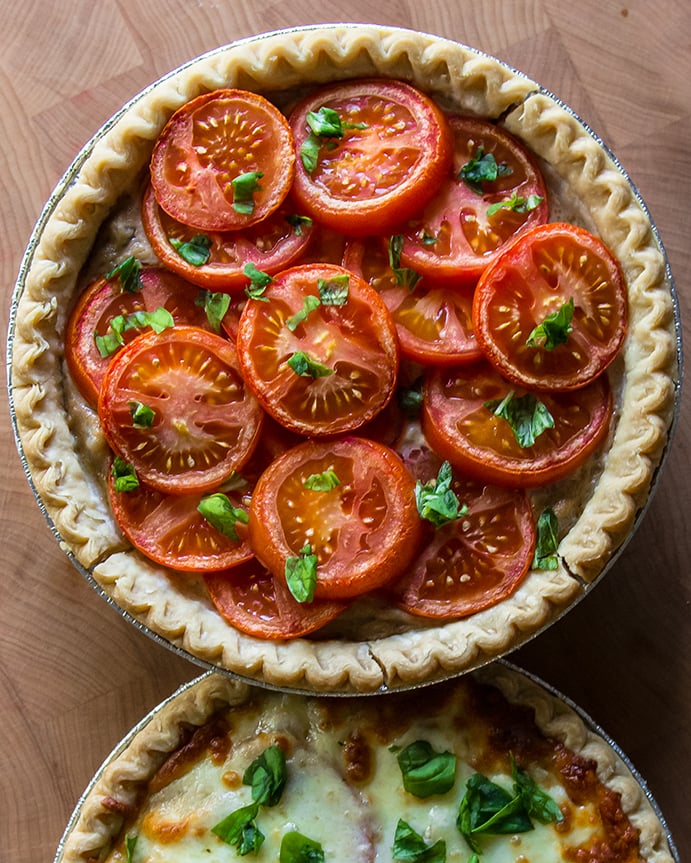 There are many ways to enjoy a summer tomato—sliced and lightly salted to be served by itself, diced and tossed with toasted bread and basil for a refreshing Panzanella, or chopped and coated with olive oil to be tossed with shrimp and pasta. During the summer, there's no wrong way to eat ripe tomatoes.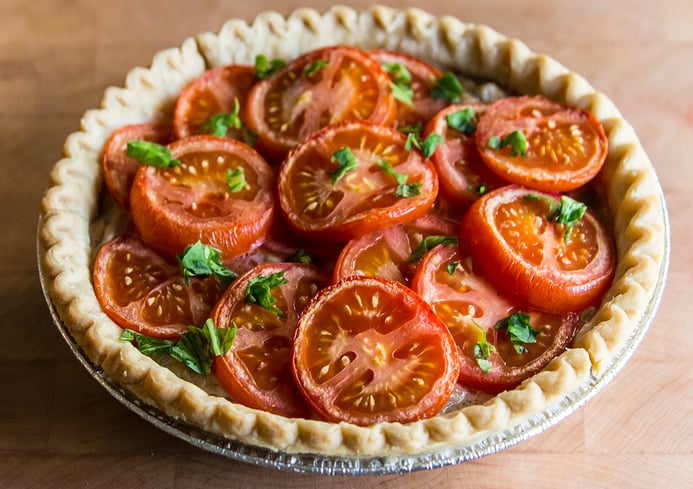 Let's face it, summer in Texas is hot and if I'm cooking with summer tomatoes I like minimal oven or cooktop time. If the oven is being turned on in the summertime it needs to be for a good reason and this Tomato Pie is that reason!
Tomato Pie is an easy and quick recipe that utilizes Market Street's summer best produce. A 10-minute prep and a 25-minute bake are all that is required for this hassle-free and lovable pie.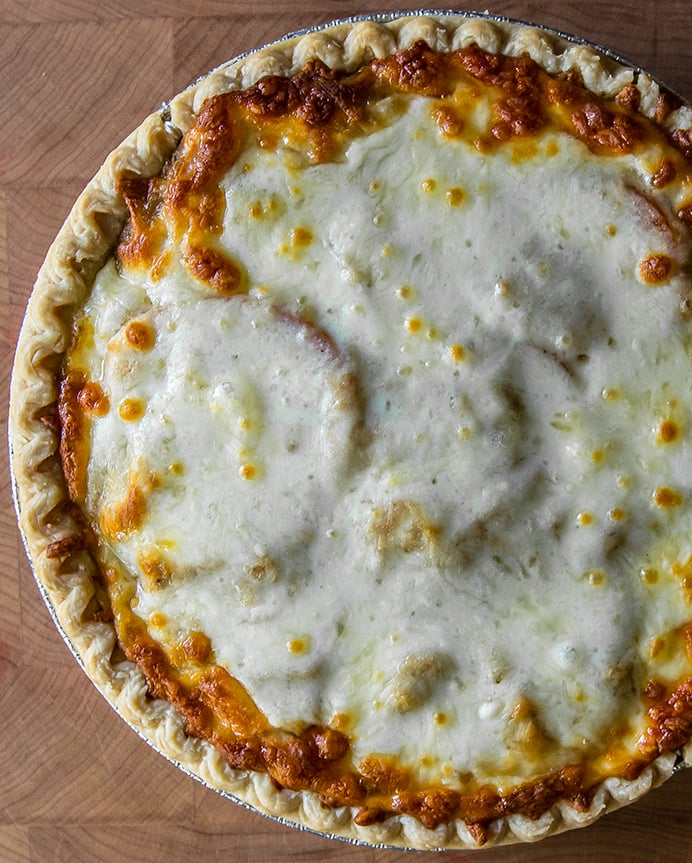 The ease of this recipe is up to you. I typically lean into quick preps in the summer; I'm soaking up time with my kids and want to enjoy every second. This Tomato Pie recipe is ideal for this type of minimal prep lifestyle. Market Street sets me up for a win with their varied selections of premade pie crusts (I see you, Pillsbury, in the freezer section!) and quality packaged grated cheese (Tillamook for the win!).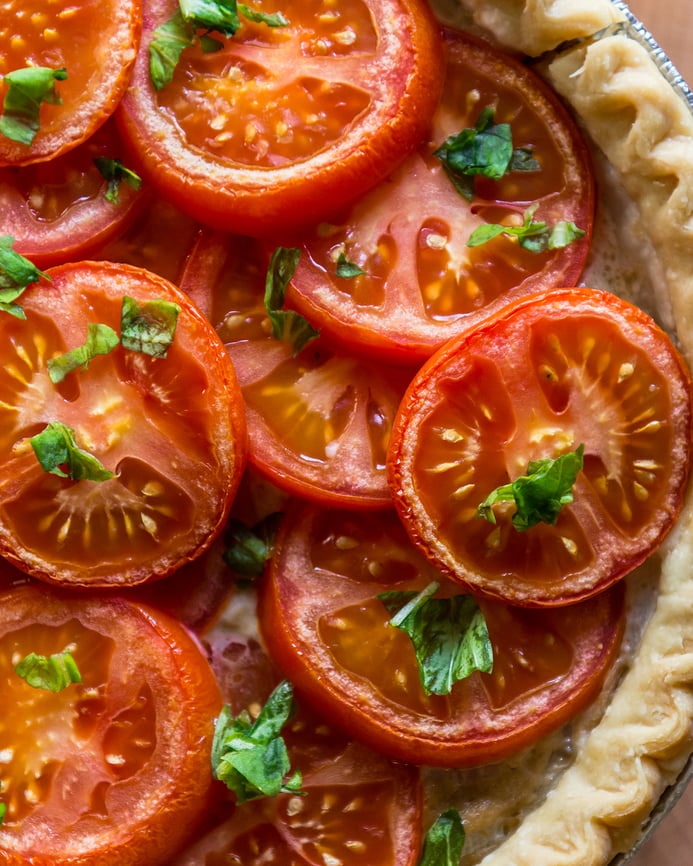 Two of the most time-consuming elements of this tomato pie are taken care of with the help of Market Street. All that is needed to complete this easy pie recipe is to slice four to five heirloom tomatoes, stir together mayonnaise and cheese and add the filling into the pie crust. Easy peasy!
After 25 minutes in the oven, this pie is golden and ready to eat. Whether it's served warm right out of the oven or at room temperature at an outdoor gathering, Tomato Pie is a summer classic recipe made easy and delicious because of Market Street.
Tomato Pie
Makes 2 Pies
Author note: To make this an easy pie, I recommend using premade pie crusts found in the freezer section at Market Street. Remember to thaw (according to the directions) before baking. Feel free to use your favorite homemade pie dough to make the crust.
INGREDIENTS:
1 cup mayonnaise
1/4 teaspoon smoked paprika
1/2 teaspoon granulated garlic
1/2 teaspoon ground ginger
1/2 teaspoon red wine vinegar
1/4 cup grated Parmesan cheese
1 cup grated white cheddar cheese, plus more to top
1 cup grated mozzarella cheese, plus more to top
two premade pie crusts
4 to 5 heirloom tomatoes (about 2 lbs), sliced thin
1/4 teaspoon kosher salt, divided
olive oil (to brush if not using cheese)
fresh basil
DIRECTIONS:
Heat the oven to 400 degrees.
In a medium-sized bowl, combine the mayonnaise, paprika, garlic, ginger, vinegar, Parmesan, cheddar, and mozzarella. Stir well.
Place half of the cheese mixture into one pie crust. Add the second half of the mixture into the second crust. Spread the mixture evenly in the crust.
Evenly divide the sliced tomatoes and place on top of the cheese mixture in each pie crust. Evenly sprinkle 1/8 of a teaspoon of salt on top of the tomatoes on each pie. If desired, top each pie with additional Parmesan, cheddar, and mozzarella cheese. If no cheese is desired, brush the tomatoes with olive oil.
Place into the oven and bake for 25 to 30 minutes or until the cheese and crust are golden. Remove from the oven and let cool for 15 minutes. Top with fresh torn basil and serve warm or at room temperature.