Summer fun is upon us and one of my favorite warm month activities is making popsicles!
Homemade frozen treats are a quick and easy way to make a hot day better. From freezing juices to sugary concoctions, popsicles made at home can fulfil a variety of cravings.
My kids love a Shirley Temple. It has become such a favorite treat that I make sure to grab grenadine and maraschino cherries at Market Street so that the ingredients are always stocked in my kitchen. Keeping these ingredients readily available at home means I can easily mix up a "special" drink for the kids when the mood strikes!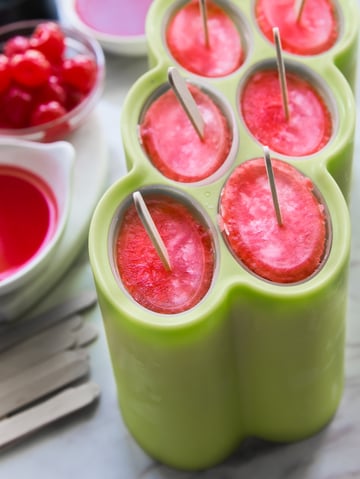 This week I decided to amp up the Shirley Temple fun by freezing this favorite drink. When my two kids discovered Shirley Temple Popsicles as their unexpectant after-school snack they were over the moon (and asking for seconds)!
Now it's your turn to transform homemade Shirley Temples into popsicles! This week when you're making a trip to Market Street be sure to add grenadine, lemon-lime soda and maraschino cherries into your cart. If you need the popsicle supplies, Market Street has that too! Check out the kitchen supply aisle where you can find popsicle sticks and popsicle molds.
.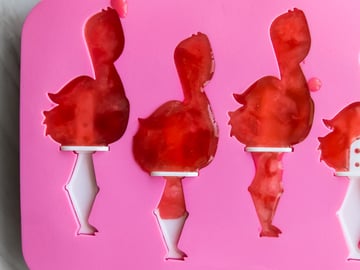 This recipe is a quick combination of just three ingredients. Once stirred together pour the large batch Shirley Temple into your favorite popsicle molds, add a few cherries and freeze! The fun will begin about six hours later when the Shirley Temple popsicles are frozen!
Now that you have a plan for the kid's summer frozen treats you can move on to your next plan—the adult frozen treat. You can find the recipe for a Strawberry Peach Bellini at A Pleasant Little Kitchen (https://apleasantlittlekitchen.com/recipe/featured-categories/seasonal-favorites/peach-strawberry-bellini/)!
Cheers to summer and chilling excitement!
Shirley Temple Popsicles
servings vary
Author note: The amount of cherries placed in the popsicle molds will vary depending upon the size of the popsicle molds used and your preference. The number of servings will also vary depending on the popsicle molds used.
3 cups lemon lime soda
1/4 cup and 1 tbsp grenadine
1/4 cup and 2 tsp maraschino cherry juice (liquid in the maraschino cherry jar)
1 jar maraschino cherries
In a pitcher, combine the soda, grenadine and maraschino cherry juice. Stir.
Place two cherries into the popsicle molds. Pour the mixture into popsicle molds covering the cherries. Cover and place into the freezer to set, about 8 hours. Remove from the molds and serve immediately.