Post and images by guest blogger, Rebecca White, of A Pleasant Little Kitchen.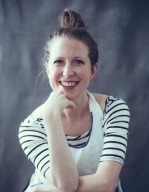 Visit her full blog or find out more about her here.
This game-day show-stopping appetizer is as easy as 1-2-3! Literally. Sliced the three ingredients! Warm the sausage! Serve on a platter!
Easy and fun to assemble, this platter of sausage, cheese and pickles is practically perfect in every way.
Market Street is a one-stop shop to collect all the goodies needed to make a delicious Sausage, Cheese and Pickle Platter. Your local shop not only has all the ingredients, but it also has a bundle of fun serving platters (I see you Dish Department and all your fantastic fall serving plates!)!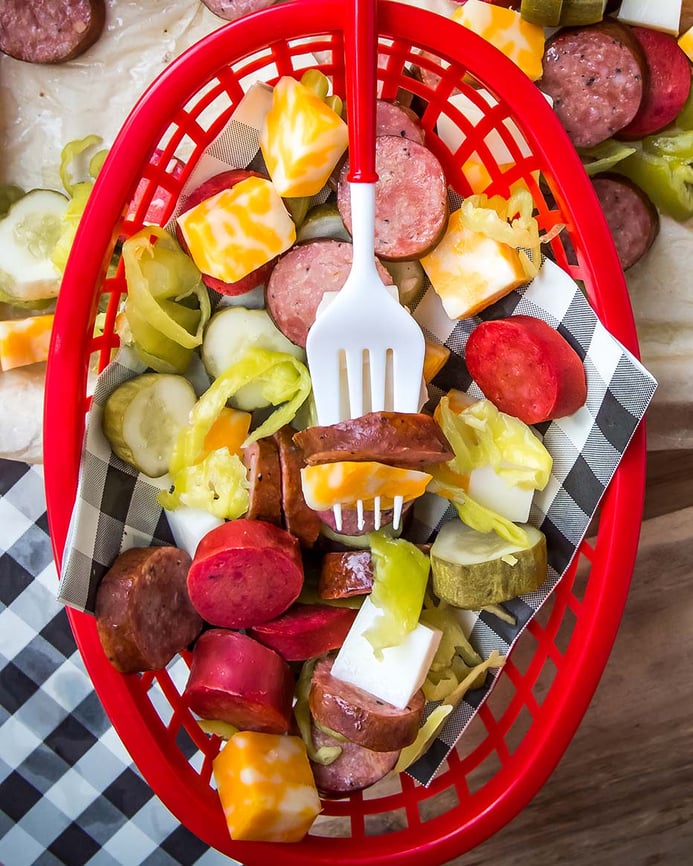 What's wonderful about this game-day recipe is its versatility with ingredients. The most basic of sausage, cheese and pickles can be selected to make this addictive spread. However, if you're like me and get blissfully lost in the aisles of Market Street, you'll soon realize that this game-day snack can turn into an assortment of varied flavors.
Irish Cheddar! Italian Sausage! Pickled Peppers! There are no boundaries on what types and how many sausage, cheese and pickled ingredients that can be used.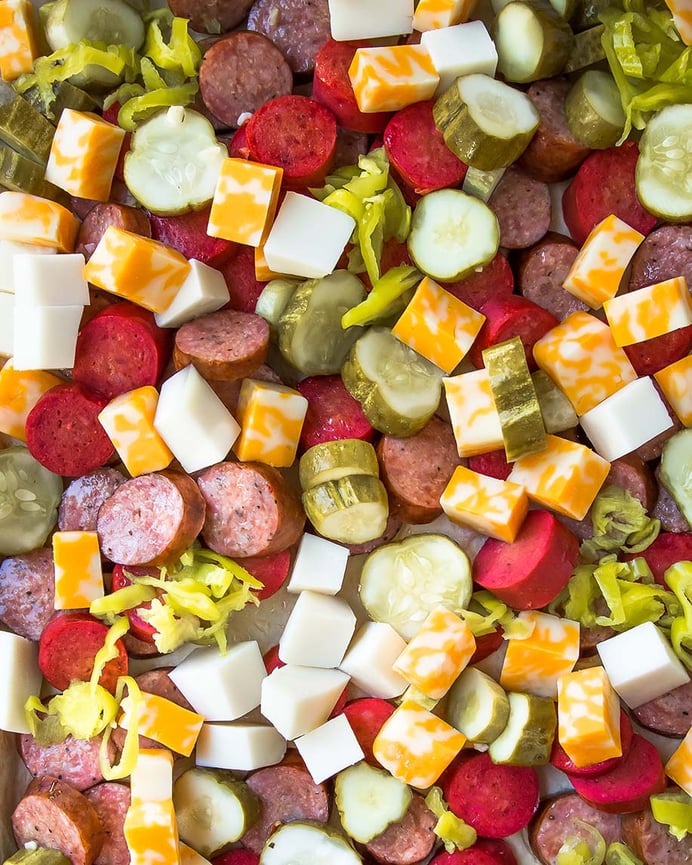 This game-day appetizer is also make-ahead friendly. There have been several occasions on Gameday Eve when I do a little prep work. I slice the sausage, cheddar and pickles. I place the sausage on a foil lined sheet pan and cover; the cheddar and pickles are popped into separate containers. All three go into the fridge overnight. Right before kick-off the sausage goes into the oven and the cheese and pickles are piled onto a serving platter.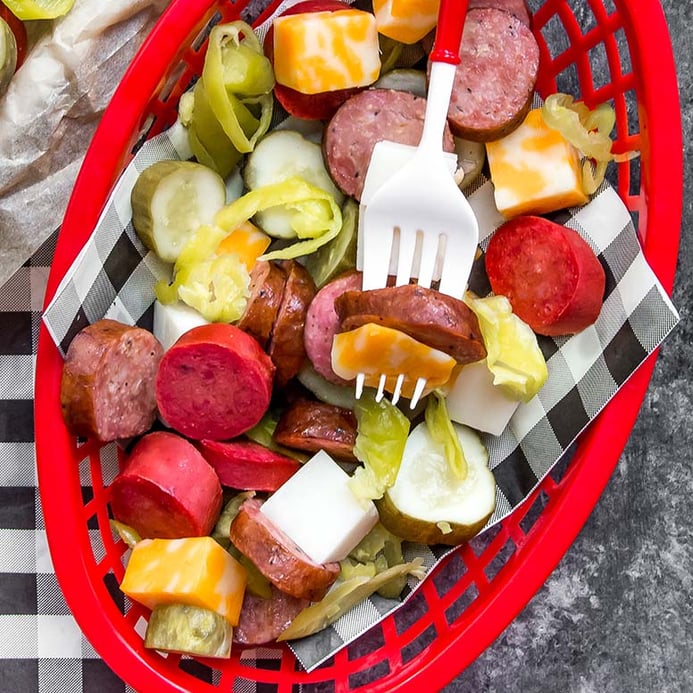 Market Street wants to help you kick-off game day in a delicious and easy way. Pop into your local shop and start collecting all the goodies to make this smorgasbord for the next big game!
Sausage, Cheese and Pickle Platter
Serves 6 to 8
Author's note: This recipe is replica of the Smoked Sausage, Cheese and Pickle Plate at Champy's Famous Fried Chicken, a restaurant chain found in the South. To make a larger portion, double the ingredients listed below. If you want a variety of cheeses, use smoked Gouda and Manchego in addition to the cheddar. I also generally use two or three different types of sausage.
2 (14-ounce) packages of precooked sausage, sliced into bite-size pieces
1 (16-ounce) block of cheddar cheese, diced into bite-size pieces
1 (16-ounce) jars pickled cucumbers, cut into bite-size pieces
Pickled peppers, to taste
Heat oven to 350 F.
Line a rimmed baking sheets with foil. Evenly distribute the sausage onto the pans. Place into oven and cook the sausage until the fat renders, about 10 to 15 minutes, or per the package instructions.
While the sausage warms, place the cheese and pickles onto a serving platter. Set aside.
Once the sausage is warmed through, remove the sheet pan from the oven. Evenly distribute the sausage onto the platter with the cheese and pickles. Serve immediately.