Mashed potatoes will never go out of style. However, let this be your friendly reminder: there are other vegetables that can be just as cozy and satisfying.
Puréed Garlic Mascarpone Carrots is a simple, decadent and minimal ingredient recipe that takes only 5 minutes to prep and 20 minutes to make. A perfect partner to roasted or smoked meats, these pureed carrots will be a reliable and delicious partner for your holiday season—or better yet, your weeknight table!
You're probably wondering how prep could be five minutes and I have two words for you: Market Street. With the help of their user-friendly produce department, you will find the main ingredients, carrots and garlic, already prepared to cook.
Peeled baby carrots are available in 16-ounce bags, you'll need two! Peeled garlic cloves can be found prepared and peeled in the produce refrigerated section. You'll need one container! The only prep you'll need to do once home is to halve the shallots and tie up the thyme!
A 15-minute simmer of water, salt, herbs, shallots and carrots will yield a briny stock that becomes a most delicious cooking liquid in which the carrots will be blended. The final step to this puréed side dish is adding mascarpone.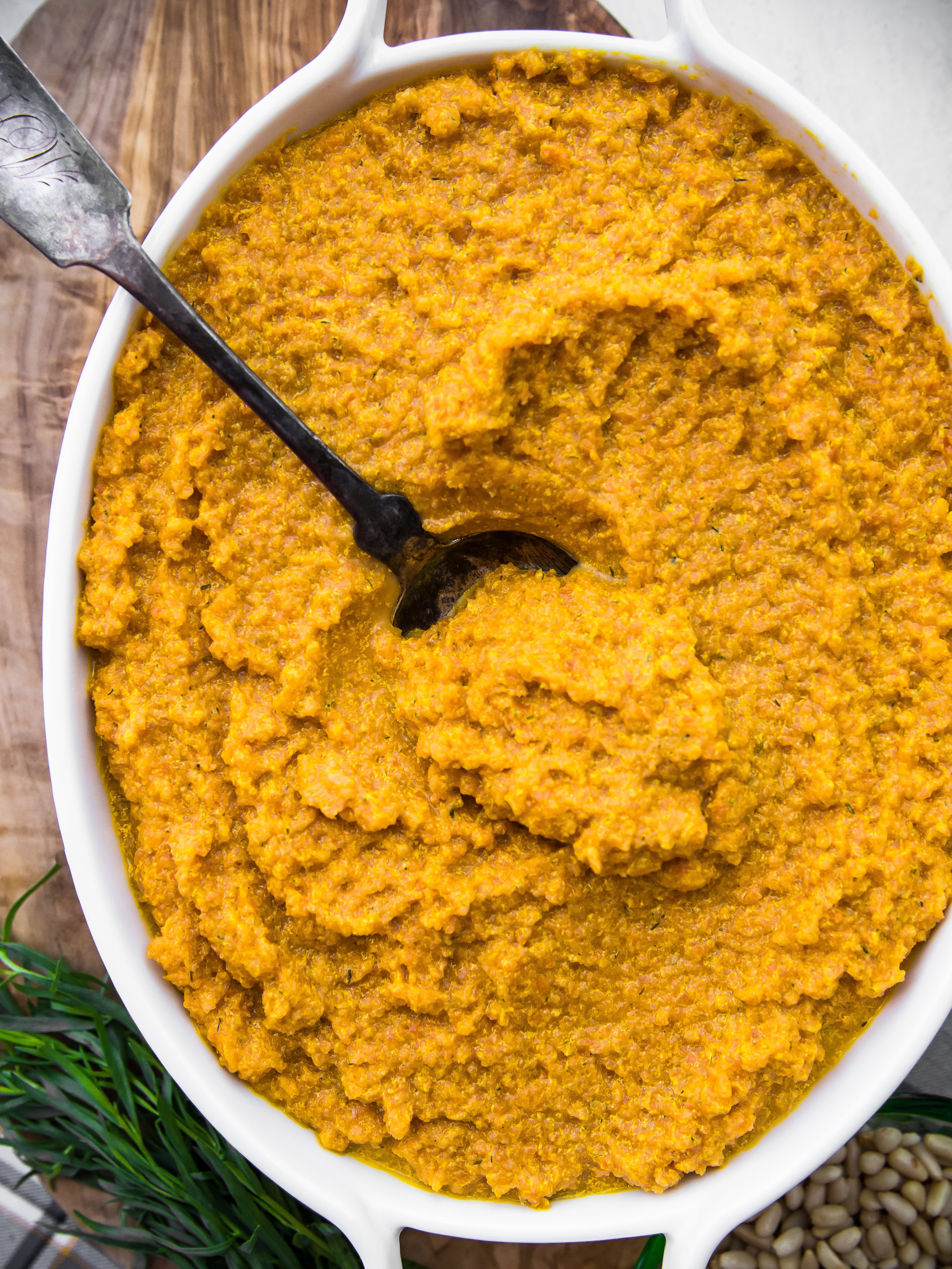 Puréed Garlic Mascarpone Carrots is savory, creamy, earthy and sweet. The cherry on top to this dish are two optional toppings: basil and toasted pine nuts OR grated parmesan cheese and chopped bacon. The toppings, however, seem endless. Fresh tarragon! Chopped walnuts! Crumbled blue cheese! Toasted breadcrumbs! Choose whichever toppings fit your diners and dinner spread.
Go ahead, skip the mashed potatoes this season, and serve carrots instead! It will make your holiday (and weeknight!) table even more enjoyable this winter—because Market Street has done most of the work for you!
serves 6 to 8
Author note: Peeled baby carrots and pre-peeled garlic cloves make this recipe a breeze to prep and make. If you are craving a more soup-like consistency, use all three cups of the cooking liquid. Fresh ground black pepper is a nice addition to this recipe; however, it may overpower the delicate nature of the dish. Use if you like a peppery taste.
2 lbs peeled carrots, quartered
bundle of thyme, tied together
5 cloves of garlic
2 to 3 small shallots, peeled and halved
3 cups water
2 tsp kosher salt
3 tbsp unsalted butter
1 tsp red wine vinegar
1/3 cup mascarpone
optional toppings:

(1) fresh basil and toasted pine nuts
(2) chopped cooked bacon and grated parmesan cheese
In a large saucepan, combine the carrots, thyme, garlic, shallots, water and salt. Cover and cook over medium high heat. Bring to a boil and then reduce to a simmer. Simmer for 15 minutes or until the carrots are pierceable with a fork.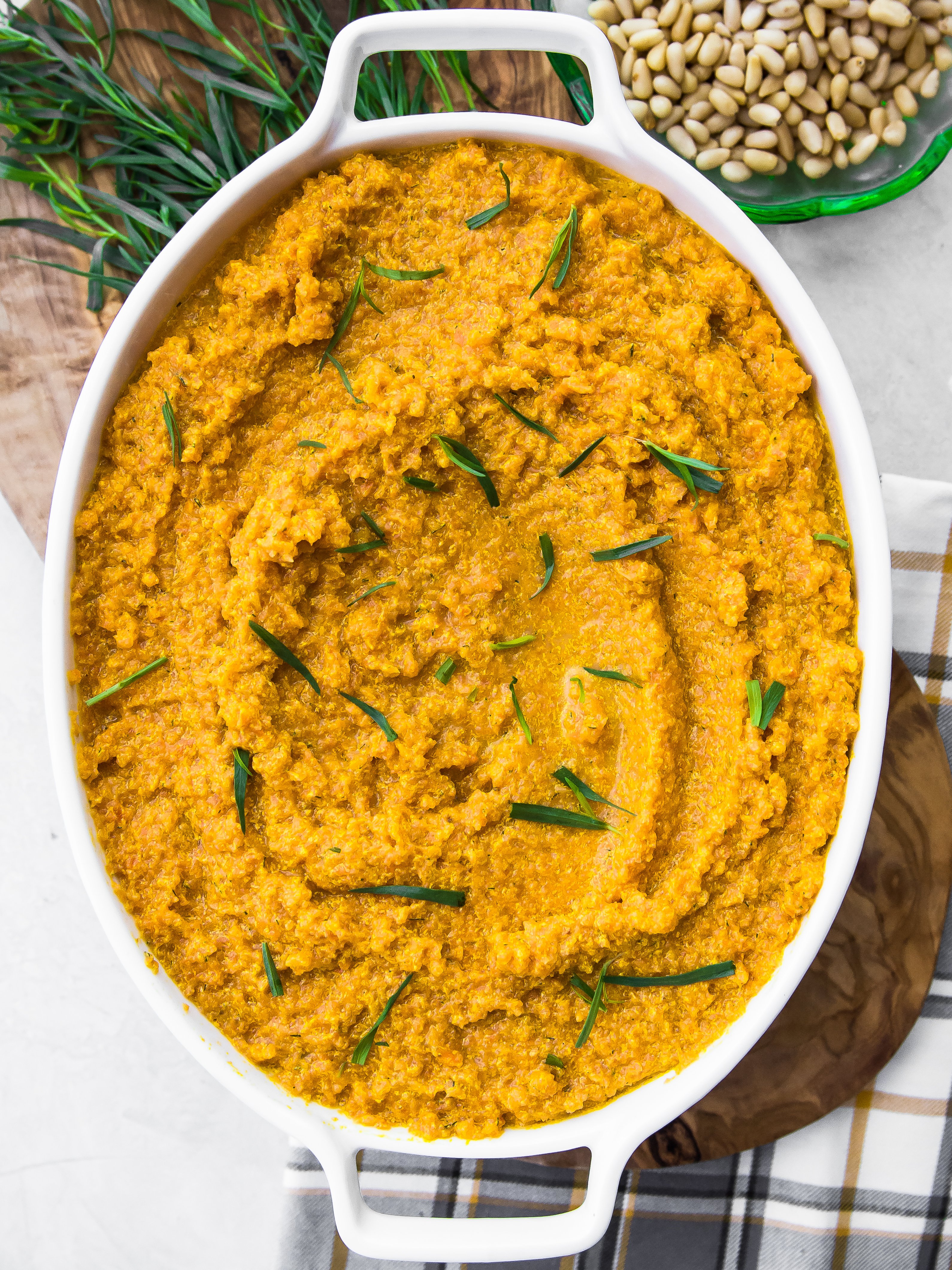 Remove the thyme. Place the carrots, garlic and shallots into a blender. Top with the butter, vinegar and 1 cup of the cooking liquid. Puree the carrots until smooth. Add the mascarpone and blitz until incorporated, adding additional cooking liquid to create desired consistency.
Place into a warm serving platter, top with chopped basil and toasted pine nuts or chopped bacon and grated parmesan cheese. Serve warm.