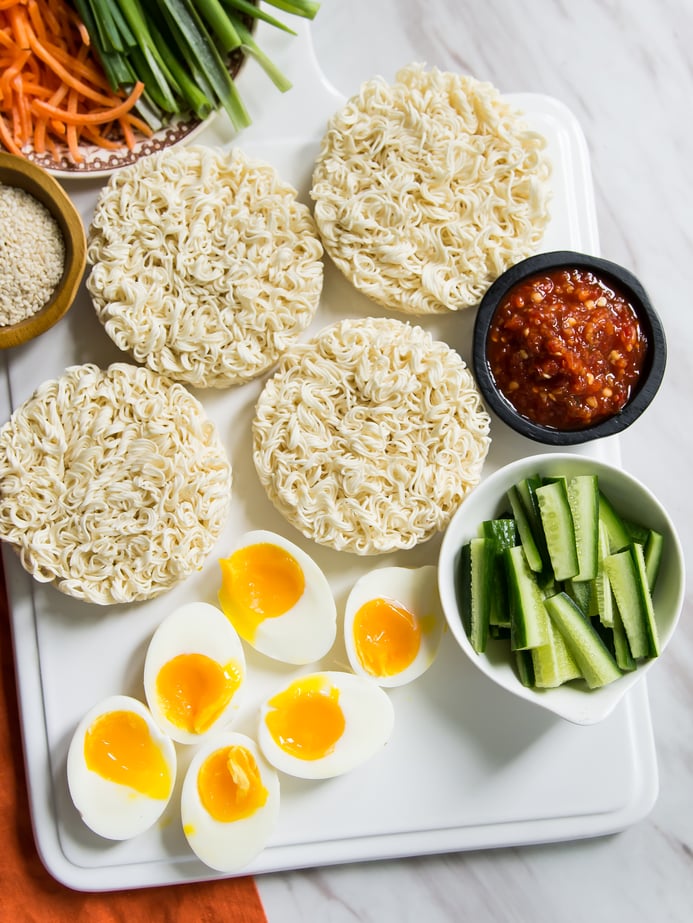 Family style meals are like a breath of fresh air in the middle of a hectic week! Our families are so often required to eat the meal we (the cook) have constructed. Giving your crew options to personalize their plate, come dinner time, makes everyone happy. Family Style Ramen Noodle Soup is one of these meals!
Seasoning packets that typically accompany instant ramen noodles are ditched in this recipe to be replaced with a 15-minute homemade ramen soy sauce broth. The noodles are then cooked and scooped out into each serving bowl. Each diner should be given an array of toppings to individualize their bowl of soup.
When dressing up a bowl of ramen, one can choose a traditional route or veer off the beaten path. Below are a few options on how to create a spread of toppings found at Market Street for this family style meal—classic or contemporary!
Pickled Carrots: a touch of acid brings out unexpected flavors in this bowl of comfort. Use pre-shredded carrots found in Market Street's produce department to make a super quick pickle (recipe can be found below!).
Raw Veggies: cucumbers, radish and jalapeno slices jazz up any bowl of ramen and add a nice crunch. For easy prep, get these pre-sliced veggies at Market Street's salad bar.
Herbs: cilantro and basil are quintessential toppers for ramen soups and they bring pops of earthiness to each bite.
Pre-Cooked Proteins: Market Street's pre-made food offers a variety of proteins that have been cooked to perfection. Choose one, like rotisserie chicken, or go big and grab chopped brisket and shrimp! Be sure to select the protein that will encourage your table to have fun with their individualized bowl of ramen!
Cheese: adding a slice of American cheese is a unique but common trick used with ramen aficionados. Be sure to add this component to your family style spread!
Eggs: A soft boil egg is the ultimate traditional topping for ramen. It makes the broth creamy and adds a filling protein to this dish.
There's no doubt that once you introduce Family Style Ramen Noodle Soup and all the toppings from Market Street to your dinner table, it will become a weekly dining tradition!
Author note: Adjust the amount of noodles and eggs cooked based on the number of people being served. The toppings listed are optional. Remember that the toppings should be based off of your cravings. Other options for toppings are: brisket, shredded pork, kimchi, American cheese slices, radishes, fresh basil—just to name a few.
6 green onions
8 cups low-sodium chicken broth
3 tsp rice wine vinegar
3 tbsp soy sauce
2-inch pieces of ginger, peeled
3 cloves of garlic, crushed
1 tsp granulated garlic
2 star anise pods
1/4 tsp kosher salt
1 tsp toasted sesame oil
4 bundles ramen noodles
4 eggs
rotisserie chicken, shredded
baby cucumbers, cut into 2 to 3-inch matchsticks
quick pickled carrots (see recipe below)
sesame seeds, optional topping
Remove the white end from the green onion and set aside. Finely chop the green onion and set aside.
In a saucepan combine the white onion ends, chicken broth, vinegar, soy sauce, ginger, garlic cloves, granulated garlic, star anise and salt. Bring to a boil and reduce heat to a simmer. Cover and cook for 15 minutes. Add the sesame oil at the end of cooking. Stir and salt to taste.
Meanwhile, fill a large saucepan with water and bring to a boil. Once boiling, gently place 4 to 6 eggs into the water. Cook for 7 1/2 minutes and immediately place the eggs into an ice bath. Peel and slice the eggs just before service.
With 3 minutes remaining in the egg cook time, add the ramen noodles to the boiling water. Cook the ramen (alongside the eggs) for 3 minutes or until desired doneness.
Add the cooked noodles into shallow serving bowls and cover with the soy sauce broth. Serve alongside the optional toppings: soft boiled eggs, rotisserie chicken, cucumbers, pickled carrots, sesame seeds and chopped green onions.
for the Quick Pickled Shredded Carrots
Author note: Don't fret if the carrots are not completely submerged in the pickle brine. During the marinating process the carrots will relax and eventually be submerged. Feel free to press down on the carrots with a spatula or the back of a wooden spoon. The mustard seed and fresh dill are optional ingredients.
1 10-oz bag shredded carrots
2 sprigs fresh dill (optional)
1 cup seasoned rice wine vinegar
2 tbsp water
1/2 tsp kosher salt
1/2 tsp yellow mustard seed (optional)
1/2 tsp red pepper flakes
2 tsp honey
Place the carrots and dill into a large shallow bowl. Place the vinegar, water, salt, mustard seed, red pepper flakes and honey into a saucepan. Bring to a boil.
Pour the brine over the carrots and stir. Let sit for 10 minutes. Let cool for another 10 minutes. Stir and serve warm or cover and place into the fridge to chill.