Post and images by guest blogger, Rebecca White, of A Pleasant Little Kitchen.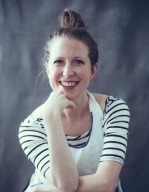 Visit her full blog or find out more about her here.
---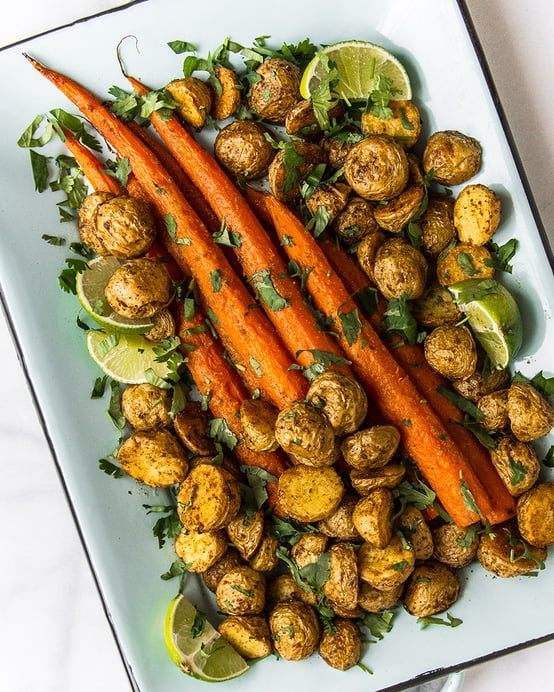 Roasted root vegetables pair wonderfully with wintertime. Hearty and filling, these vegetables are perfect for a meatless meal or a substantial side dish. A warm plate of carrots and potatoes is the perfect partner to a cold winter's night.
While carrots and potatoes are typically connected to a pot roast dinner, I wanted to shake things up a bit with this classic combination.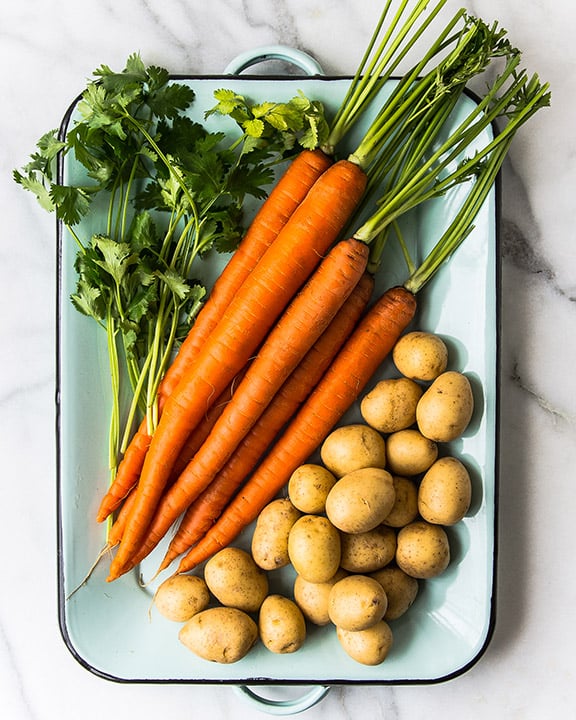 Cumin Roasted Potatoes and Carrots is a weeknight-worthy sheet pan recipe that you will find yourself making over and over again. Gold potatoes and carrots are coated with a cumin and smoked paprika olive oil mixture and then roasted to perfection. Topped with fresh cilantro and lime juice, this recipe is full of flavor and texture from earthy and sweet and creamy to crunchy.
In the produce department Market Street has a variety of root vegetables to choose from. Whether your goal is organic or conventional, Market Street has options to choose from to meet your dietary preferences and budget needs.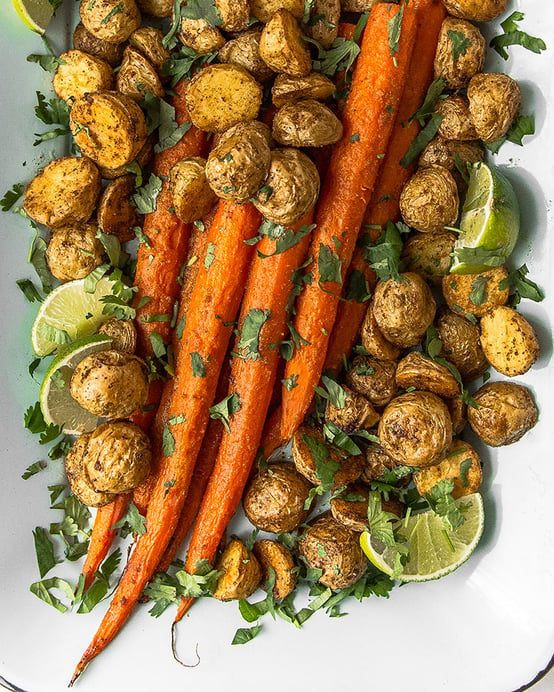 While the vegetables shine in this recipe, the spices will steal your heart. The spice blend used for Cumin Roasted Potatoes and Carrots is a combination of cumin, smoked paprika and garlic powder. If you've never used smoked paprika now is the time! Very different from regular paprika, smoked paprika contains a sweet and smokey flavor profile that regular paprika does not. So resist the urge to reach for regular paprika when making this recipe and be sure to add the smoked paprika to your Market Street shopping list!
Warm up your oven and let the anticipation begin! Cumin Roasted Potatoes and Carrots is about to become a mealtime must-have!
Cumin Roasted Potatoes and Carrots
serves 4-6
Author note: For easy clean-up, line the sheet pan with foil. To speed the process along, I prep the carrots and cilantro while the potatoes roast for the first 20 minutes. The cook time for the carrots and potatoes will vary depending upon their sizes.
24 ounces small gold potatoes, halved
24 ounces carrots, peeled and ends removed
5 tablespoons extra virgin olive oil, divided
1 teaspoon smoked paprika
1 teaspoon garlic powder
1 1/4 teaspoons kosher salt
2 tablespoons cumin
fresh chopped cilantro, for topping
lime wedges, for topping
Heat the oven to 450 degrees.
In a medium-sized bowl, combine 4 tablespoons of oil, paprika, garlic, salt and cumin. Mix well.
Place the potatoes into the bowl and stir to evenly coat the potatoes. With a slotted spoon, remove the potatoes and place onto a rimmed baking sheet. Place into the oven and roast for 20 minutes. Set the remaining oil mixture aside to use later. If the oil mixture in the bowl looks dry, add the remaining 1 tablespoon of olive oil and stir to combine.
After 20 minutes, remove the potatoes from the oven. Push the potatoes to one half of the sheet pan. Add the carrots and evenly drizzle the remaining oil mixture over the carrots. Return to the oven and roast for 25 to 30 minutes, turning the carrots once halfway through roasting.
Remove the vegetables from the oven once the potatoes are crispy and the carrots softened. Let cool for 5 minutes. Place onto a serving plate, topped with cilantro and fresh lime juice. Serve warm.