Post and images by guest blogger, Rebecca White, of A Pleasant Little Kitchen.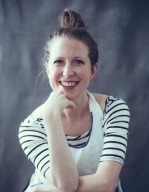 Visit her full blog or find out more about her here.
Baking season has arrived and what's better than a dessert that can also pose as breakfast? Brown Sugar Cinnamon Apple Tart taste like fall in every bite which makes for a sweet start (or tasty anytime bite!) to the day.
I love when fall produce begins to arrive at Market Street, especially the apples. The Market Street produce department feels like an orchard: from Honey Crisps to Granny Smith to Envy apples, the variety of flavors to choose from is great.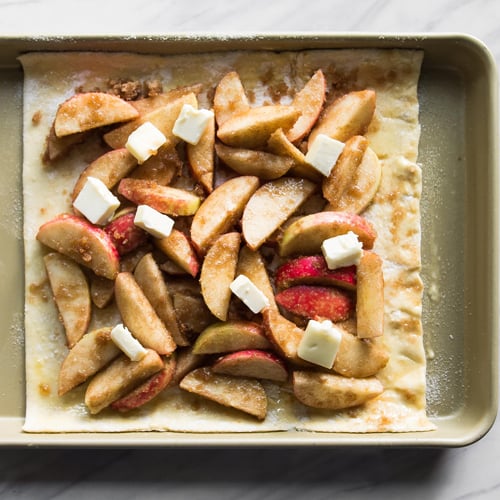 his apple mixture is almond extract. Easily accessible in Market Street's baking aisle, almond extract is always a nice ingredient to have handy when baking. With just a splash of almond extract, a layer of nutty flavor is infused into the entire baked good.
The crowning glory to Brown Sugar Cinnamon Apple Tart is the Orange Cream Sauce that is drizzled on top of this tart. For this particular apple recipe, I like to use Honey Crisp apples. Their sweet yet tart flavor profile is perfect for baking. Coated with brown sugar, cinnamon and a pinch of salt, these apples bake to golden perfection.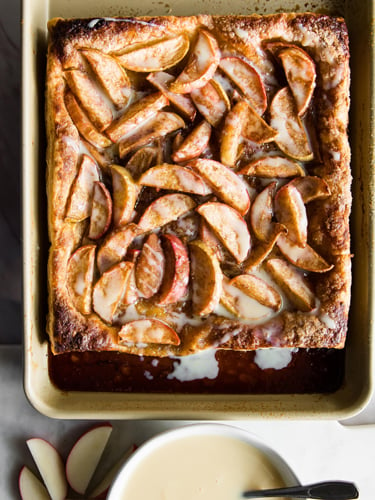 What I also love about this tart is the pre-made puff pastry I grab from the freezer section at Market Street. Baking can happen a lot more often (and a lot easier!) when you utilize quality, pre-made ingredients. Puff pastry is one of those ingredients for me! A quick thaw on the countertop allows me to create an easy to assemble and quick to love treat—which makes everyone happy!
The secret ingredient to tSweetened condensed milk, a splash of orange extract and fresh orange zest makes for a sweet and easy sauce.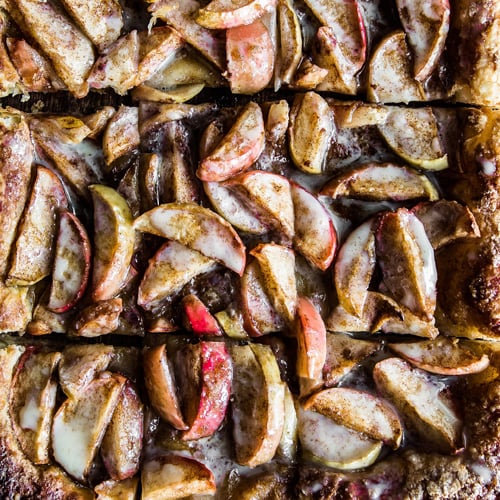 Dessert first is a favorite mantra for many a sweet tooth. There's no better way to follow through with this mantra than letting this Brown Sugar Cinnamon Apple Tart be your first sweet bite of the day!
Brown-Sugar Cinnamon Apple Tart
serves 6 to 8
Author note: To make an egg wash for the puff pastry crack one egg into a small bowl. Using a whisk or fork, whisk the egg until yolk and white are thoroughly combined. Use a pastry brush to apply the egg wash onto the directed ingredient.
3 cups Honey Crisp apples, sliced
1/2 cup brown sugar
1/2 tsp ground cinnamon
1/4 tsp kosher salt
1/4 tsp almond extract
canola oil spray
1 sheet puff pastry
1 egg (for egg wash)
3 tsp white sugar
2 tbsp unsalted butter, diced into small cubes
Orange Cream Icing, see recipe below
Heat an oven to 400 degrees F.
Place the apples into a medium-sized mixing bowl. Set aside. In a small bowl, stir well to combine the brown sugar, cinnamon and salt. Add the brown sugar mixture to the apples. Stir well to thoroughly coat the apple slices. Add the almond extract to the apple mixture. Stir well.
Place the puff pastry sheet onto a greased and rimmed 9x12 baking sheet. Brush the egg wash around a 1-inch rim of the puff pastry. Evenly distribute the white sugar on top of the egg wash.
Evenly distribute the apples onto the puff pastry to thoroughly cover (there may be a few remaining apples that may not fit onto the puff pastry, this is okay). Top the apples with the small cubes of butter and any remaining sugar juices from the bowl of apples. Place the sheet pan into the oven and bake for 40 minutes, covering the top of the tart with foil about 30 minutes into baking.
Remove the tart from the oven and let cool. Drizzle with the Orange Cream Sauce and serve warm or at room temperature
For the Orange Cream Sauce
Thoroughly Combine 1/2 tsp of orange extract and zest of 1 orange with 14 ounces of sweetened condensed milk. Taste and if more orange flavor is desired add an additional 1/4 teaspoon of orange extract. Drizzle on top of pastries, pancakes, waffles, toast roasted nuts or fresh fruit.