Bologna Meatballs in Red Sauce
As a kid, a bologna sandwich always seem to hit the spot. Fluffy white bread, a smear of mayonnaise, a slice of American cheese and then—the bologna—this was a lunchtime favorite.
Somewhere down the road, bologna lost its hold over me and I abandoned this salty sandwich. As an adult, I've reacquainted myself with this childhood favorite, and all I can say is "Bologna, welcome back to my kitchen."
In my newest recipe, another childhood favorite, spaghetti and meatballs, collide with bologna to create a fun and delicious meal. Bologna Meatballs!
Yes. You heard me. Bologna Meatballs.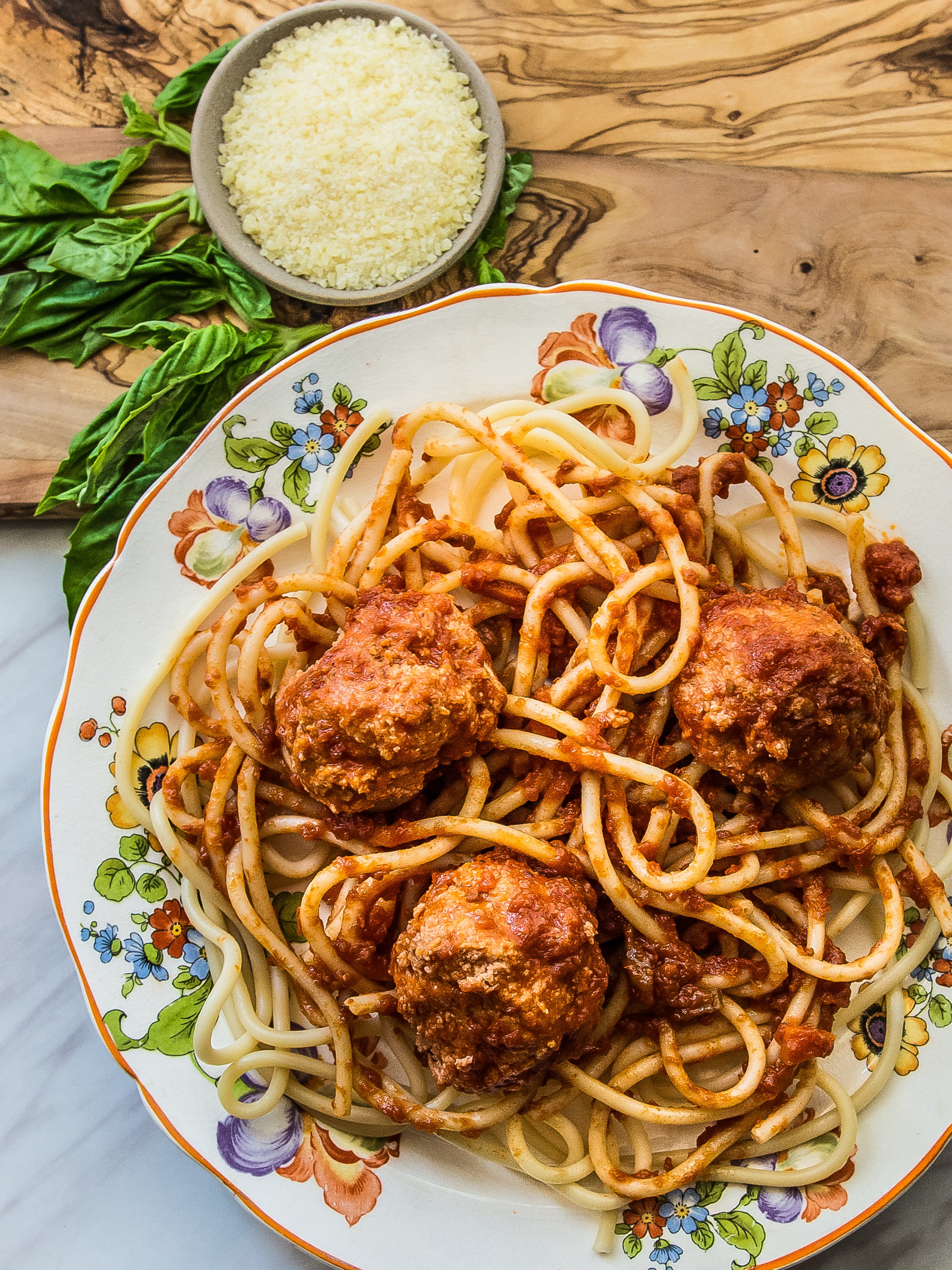 1 pound of bologna is combined with ground pork, panko breadcrumbs and parmesan cheese to make the most succulent and tasty meatball you've ever encountered! The meatballs, once combined in your food processor, go straight into a pan of simmering homemade tomato sauce to cook for only 30 minutes.
Wondering what two star ingredients you need to grab at Market Street to make this meal happen?
Bologna. The key player is quality bologna, which the deli counter will give you an array of bologna selections to choose from. Be sure to get one without a thick casing. If you do select one with a casing, just make sure it is removed before you start to in the cooking process!
Pasta. Now, meatballs don't have to be served with pasta, but with this particular recipe, I feel like pasta is a MUST. Since this recipe is a bit unique, I suggest a unique pasta. Grab a Signature Select bundle of bucatini found in the Market Street pasta section. This pasta is similar to spaghetti, except for two things: it's thicker and hollow on the inside. If you can't find bucatini, no problem! Classic spaghetti or linguini would be a perfect match as well.
Grab a bottle of chianti and a freshly baked baguette to round off this special meal. Your kitchen hasn't seen anything like bologna meatballs before! Buon appetito!
Author note: This will make around 22 to 25 2-inch sized meatballs. The saltiness of the meatballs will be determined on the type of bologna used. You will need a large stock pot or Dutch oven to make this recipe.
1 small onion, quartered
1 lb bologna, outer casing removed (if there is a thick casing), and cut into cubes
1 lb ground pork
1/2 cup panko breadcrumbs
1/2 cup parmesan cheese
1 egg
1/2 to 1 tsp red pepper flakes
1 tsp ground pepper
1 tsp kosher salt
2 tbsp rosemary leaves, rough chopped
2 tsp red wine vinegar
red sauce, see recipe below
grated parmesan, for topping
fresh basil leaves, chopped
Place the onion into the food processor and blitz until thoroughly chopped.
In a food processor, place the bologna, pork, bread crumbs, parmesan, egg, red pepper flakes, pepper, salt, rosemary and vinegar. Blitz until thoroughly combined.
Using a 2-inch ice cream scoop, scoop individual meatballs and place into the stock pot of simmering red sauce. Cover and cook until meatballs reach 165 degrees, about 30 minutes to 1 hour.
Serve the meatballs with your favorite pasta, topped with the red sauce, grated parmesan and chopped fresh basil leaves.
for the red sauce
In a large stock pot combine 3 28-ounce can whole tomatoes, 1 cup water, 1 onion (cut in half), 3 cloves garlic (crushed), 1/2 cup celery, (finely diced), 3/4 cup carrots (finely diced), 1 stick unsalted butter, 1 tsp kosher salt and 3 sprigs basil (tied together). Stir to combine. Bring to a simmer and cook for 15 minutes. Remove onions and basil before serving.