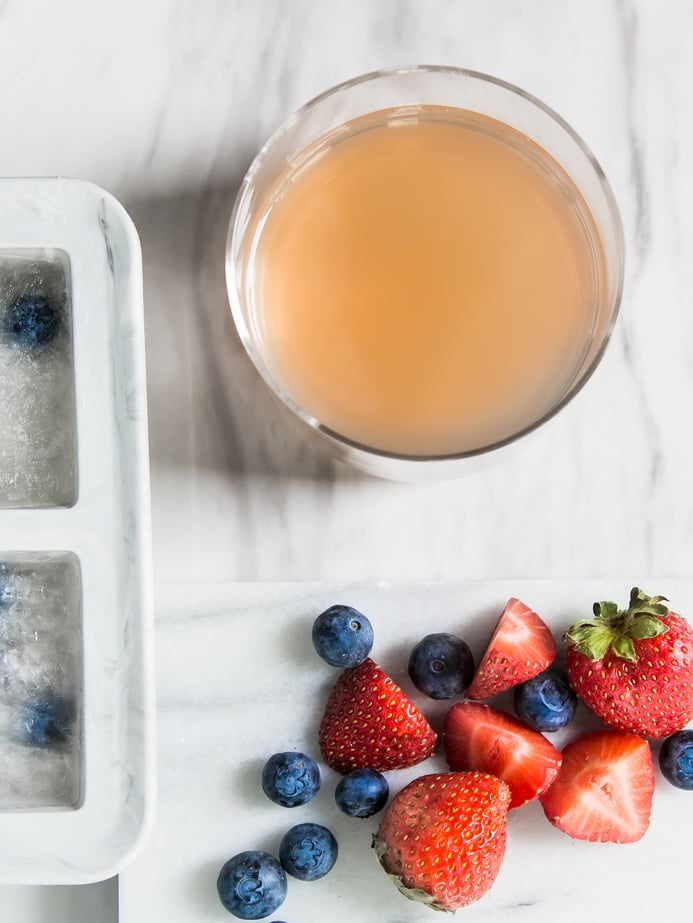 Unique sips have a magical way of elevating a get together. Whether it's served alone as a small gesture of etiquette or placed among a spread of tantalizing bites, a thoughtful drink, that all can enjoy, is a very powerful thing.
II grew up drinking "punches" at special occasions. The punch bowl always had its place of honor and within the bowl was something sugary, fizzy and colorful. Not only did I love partaking of the punch, I loved watching its construction—it was mesmerizing.
This fourth of July, I plan to bring back the joy of punch and let my children also experience the same exhilaration I remember—however, it's more of a small batch punch. No need to climb into the attic and unwrap the crystal punch bowl. Berry Tea Punch fits into a pitcher and requires no ladle!
This simple combination of tea and sparkling berry soda is a modern, healthier version of the 1980s sherbet and sugary soda concoctions I (we) grew up sipping. Keep in mind, I would still whole-heartedly enjoy one of these punches if given a chance!
Market Street has the perfect sparkling berry soda to compliment brewed tea. I rely on Lorina's
Sparkling Berry Soda for this delicious, light punch. It's a lightly sweetened soda with a hint of
berry—the perfect partner to cold tea.
Now, if you have more of a sweet tooth, head down Market Street's soda aisle. There is a variety of "pops" from which to choose, from classic brands to artisanal varieties, there are a handful of berry sodas that will complement the earthiness of brewed tea. Have fun with it! Oh, and if you're in a hurry and don't want to brew tea at home, grab a batch of pre-made tea while at Market Street. This will make the Berry Tea Punch even easier to make!
The cherry on top to this summertime punch are the blueberry ice cubes. While not a requirement, it will make the sip a bit more "festive" and if serving on July 4th , it will make the punch very patriotic Cheers to cooking with memories and reinventing the treasured recipes to meet our kitchens and tastes today. Happy 4th of July, my friends!
Berry Tea Punch with Blueberry Ice Cubes
Author note: To make a punch sparkling soda is required. This recipe uses a slightly sweetened sparkling berry soda. The amount of tea used is dependent upon your preference. For a stronger tea flavor, use 2 cups of tea. This punch is easily doubled or tripled.
4 servings
25 ounces sparkling berry soda, chilled
1 to 2 cups unsweetened tea, chilled
1 cup diced strawberries (optional), chilled
blueberry ice cubes (see recipe below)
Place the berry soda, unsweetened tea and strawberries into a large pitcher. Stir and serve immediately with blueberry ice cubes.
for the Blueberry Ice Cubes
Place two to three blueberries into individual ice cube molds. Fill the ice molds three-fourths of the way full. Place into the freezer