Cucumbers are an easy bite to enjoy. Not only is salt and vinegar the perfect partners to cucumbers, this combination requires no heat to make this pairing work. Yet, with this ease of construction, sometimes we only consider the cucumber only something that should be eaten chilled.
We never consider a warm cucumber because so often place cucumbers within the "cold and raw" category of dining, let's change that! Cucumbers gently baked in the oven with a garlic cream sauce may seem unusual, but it is in fact, quite classic.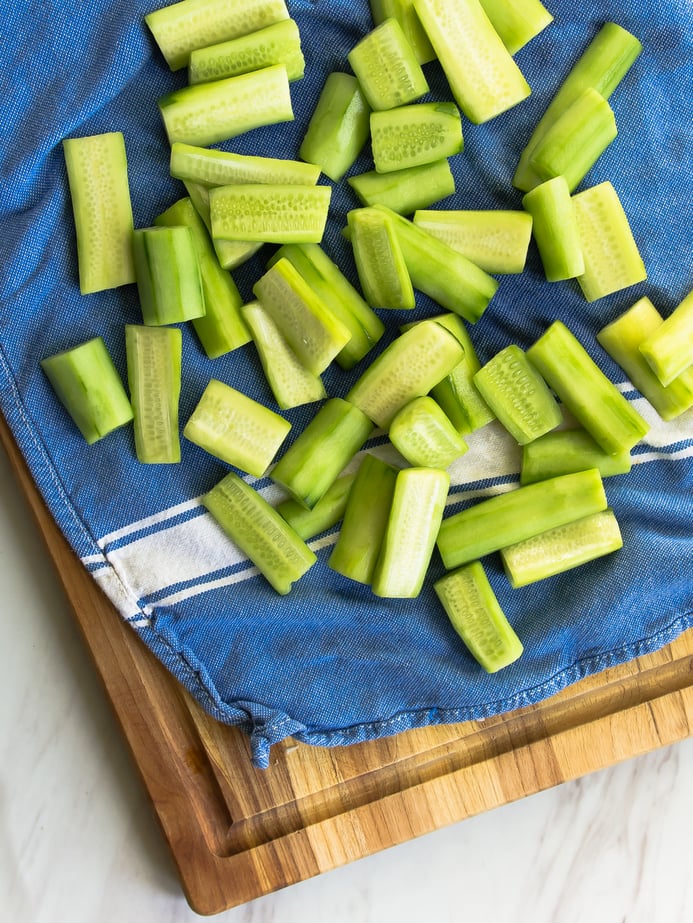 Years ago, while diving through the pages of Julia Child's Mastering the Art of French Cooking, I stumbled across Baked Cucumbers. Child bakes cucumbers in butter and then covers them with a reduced cream sauce. A delicious and surprising side dish, I couldn't get enough once I tried it.
This summer I wanted to share a recipe with you that, inspired by Child's, is a bit simpler and requires one less pan.
Persian cucumbers, found at Market Street, are peeled and half. Once this bundle of cucumbers marinates in vinegar and salt, they are patted dry and then placed in a baking dish full of cream, garlic and butter to bake for 30 minutes.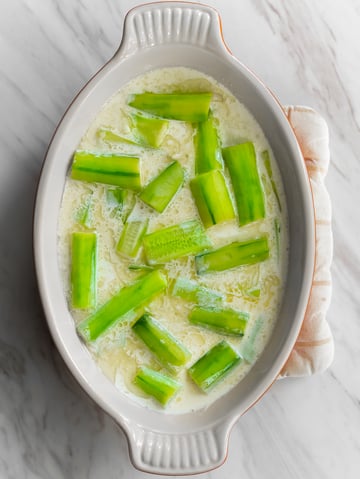 Vinegary, salty, creamy and slightly crunchy—these baked cucumbers are a joy to cook. I love this recipe. It's classic French and should be served alongside a Market Street French baguette and a perfectly cooked steak tenderloin--or grilled salmon! or slices of prosciutto! or roasted chicken! The options of pairings seem endless.
Let cooked cucumbers into your kitchen this summer. It will widen your scope of weeknight sides and be a delightful conversation starter… "have you ever eaten a baked cucumber?"
Bon Appetit!
Baked Cucumbers in Garlic Cream
serves 4
Author note: This recipe is inspired by Julia Child's Baked Cucumbers. It's a beautiful way to cook and eat cucumbers. If you do not like dill, chopped parsley or basil will also work in this dish. The cucumbers do not have to be in an even layer when they bake, they can be piled within the baking dish.
1 1/2 to 2-lbs Persian Cucumbers, peeled
1 1/2 tsp kosher salt, divided
1 tbsp plus 1 teaspoon white wine vinegar, divided
3 tbsp unsalted butter
5 garlic cloves, crushed
1 cup cream
1/4 tsp ground pepper
fresh dill, chopped
Half the cucumbers lengthwise. Then cut each slice in half. In a large bowl, add 1 teaspoon of salt and 1 tablespoon of vinegar. Stir to combine. Add the cucumbers and stir to coat. Set aside for thirty minutes.
When ready to cook, heat the oven to 350 degrees. In a baking dish, add the butter, garlic, cream, pepper and 1/2 teaspoon of salt. Place into the oven and cook for 10 minutes.
While the cream and butter are cooking, using a slotted spoon, remove the cucumbers from the bowl and pat dry. Remove the cream from the oven and place the cucumbers and vinegar into the dish. Stir to coat the cucumbers. Place in the oven and bake until softened but still has a bit of crunch, about 30 to 35 minutes.
Remove from the oven and add fresh chopped dill. Stir to combine and serve warm. Salt and pepper to taste.