Post and images by guest blogger, Rebecca White, of A Pleasant Little Kitchen.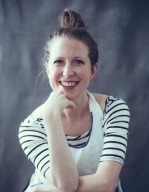 Visit her full blog or find out more about her here.
---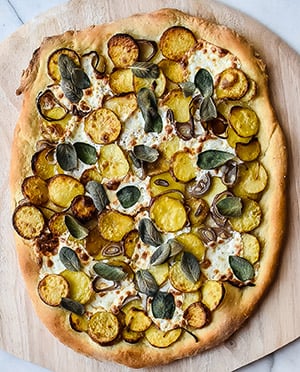 Pizza is not just a weekend meal, it's an any day of the week meal.
There's a variety of reasons why a mid-week pizza pie makes sense. One being that your weekly trip to Market Street will guarantee a delicious pizza pie with any remaining groceries you still might have from that trip.
Pizza is a perfect way to use the scraps from leftover recipes. For example, the toppings used for a pizza may be a few remaining fresh sage leaves and gold potatoes. Viola! Potato Sage Pizza!
Perhaps there's a lone puff pastry box sitting in the freezer needing to be used up? Easy! Make a quick tomato sauce and grab that bag of Lucerne grated mozzarella from the refrigerator. The dinner dilemma is now solved: Pizza Puff Rolls!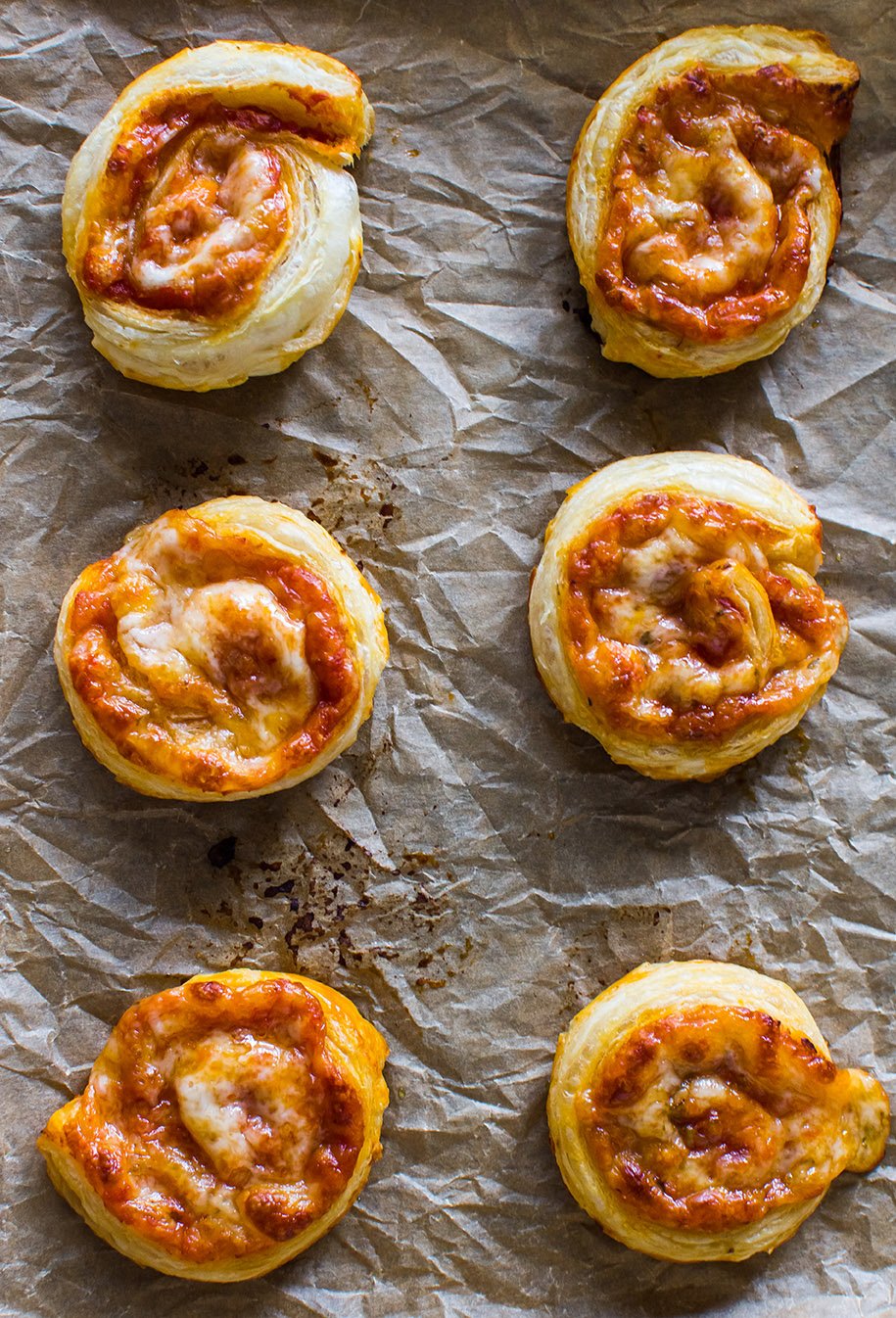 Whether kitchen scraps, leftovers or new ingredients pizza is a good meal to have on the weekly recipe rotation. I enjoy making pizza so much that I like to have premade dough or puff pastry always in my fridge for any last-minute pizza cravings. Maybe you should too?
Here are a few (four, actually) unique homemade pizza recipes that will make you want to make a different 'Za every day of the week.
---
POTATO SAGE PIZZA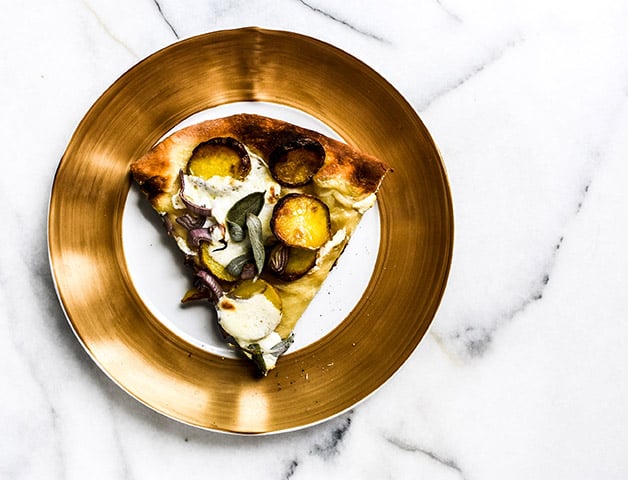 What I love about this pizza is the combo of the potato and sage. It's an unexpected combination that works! Grab some Organic Sage at Market Street for a true pop of flavor!
Author note: Be sure to slice the potatoes fairly thin. This pizza does not do well with thick slices of potatoes. For this recipe, use your favorite pizza dough (store bought makes for a quick meal). Lastly, the potatoes can be cooked and the shallots sliced in advanced for quick assembly at dinner time.
2 tablespoons extra-virgin olive oil, plus more for pizza dough
3 garlic cloves, crushed
2 cups Tasteful Selections Honey Gold Potatoes, sliced
1 teaspoon kosher salt
1/2 cup shallots, sliced
20 fresh sage leaves
9 small mozzarella balls (shredded mozzarella also works)
pizza dough
Heat the oven to 500 degrees.
In a skillet, heat the oil and crushed garlic for 8 minutes. Flip the cloves once, about 4 minutes into the heating process. Remove the garlic.
Add the potatoes and 3/4 teaspoon of salt into the garlic infused oil. Stir well to coat the potatoes with the oil. Cook until the potatoes are softened, about 6-8 minutes depending on their thickness. Stir occasionally.
Meanwhile, rollout the dough out onto a floured surface. Lightly drizzle the top with olive oil and season with 1/4 teaspoon kosher salt.
Evenly distribute the sautéed potatoes, shallots, sage and mozzarella balls onto the dough.
Place the pizza in the oven and cook for 13 minutes or until the dough is golden and the mozzarella browned.
---
WILD MUSHROOM WHITE PIZZA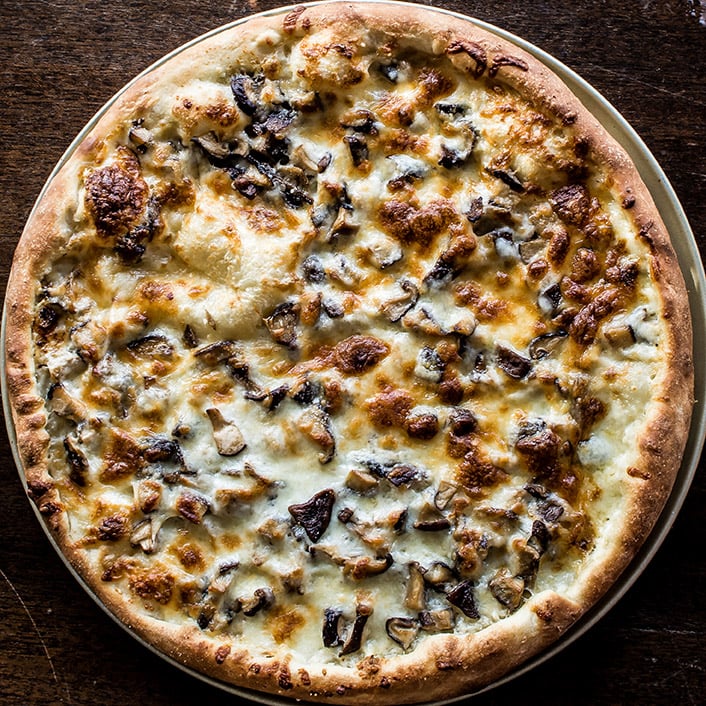 This pizza is a mushroom lovers dream come true!
3 tablespoons unsalted butter
6 cups shitake mushrooms, chopped
2 garlic cloves, crushed
1 1-inch pieces fresh ginger, peeled
1/2 teaspoon kosher salt
1/2 cup white wine
1 cup cream
1/2 teaspoon sherry vinegar
1/4 cup shallot, rough chopped
1/4 teaspoon salt
red pepper flakes, pinch
1/2 cup parmesan, grated
1 cup mozzarella, shredded
Heat the oven to 550 degrees.
Melt 2 tablespoons of butter in a medium-sized skillet. Add the garlic cloves and ginger pieces to the pan once the butter is melted.
Place half of the mushrooms into the skillet. Sauté for 5 minutes over medium heat. Push the softened mushrooms to the perimeter of the skillet. Melt the remaining 1 tablespoon of butter in the center of the skillet.
Add the remaining 3 cups of mushrooms. Cook for an additional 5-7 minutes, or until the mushrooms are soft, slightly browned and sticking to the bottom of the pan. Stir occasionally.
Deglaze the pan with the wine. Increase the heat to medium-high and simmer for 3-5 minutes or until the liquid is absorbed. Remove from the heat. Remove the ginger and garlic.
Roll out the dough on a floured surface and place on your preferred baking equipment.
In a food processor, puree cream, vinegar, shallots and red pepper flakes until the cream is thickened and slightly fluffy.
Top the dough with the white sauce and sautéed mushrooms, parmesan, mozzarella. Bake for 10-12 minutes or until the dough and cheese are golden brown. Remove from the heat and let cool 5 minutes. Cut and serve immediately.
---
PIZZA PUFF ROLLS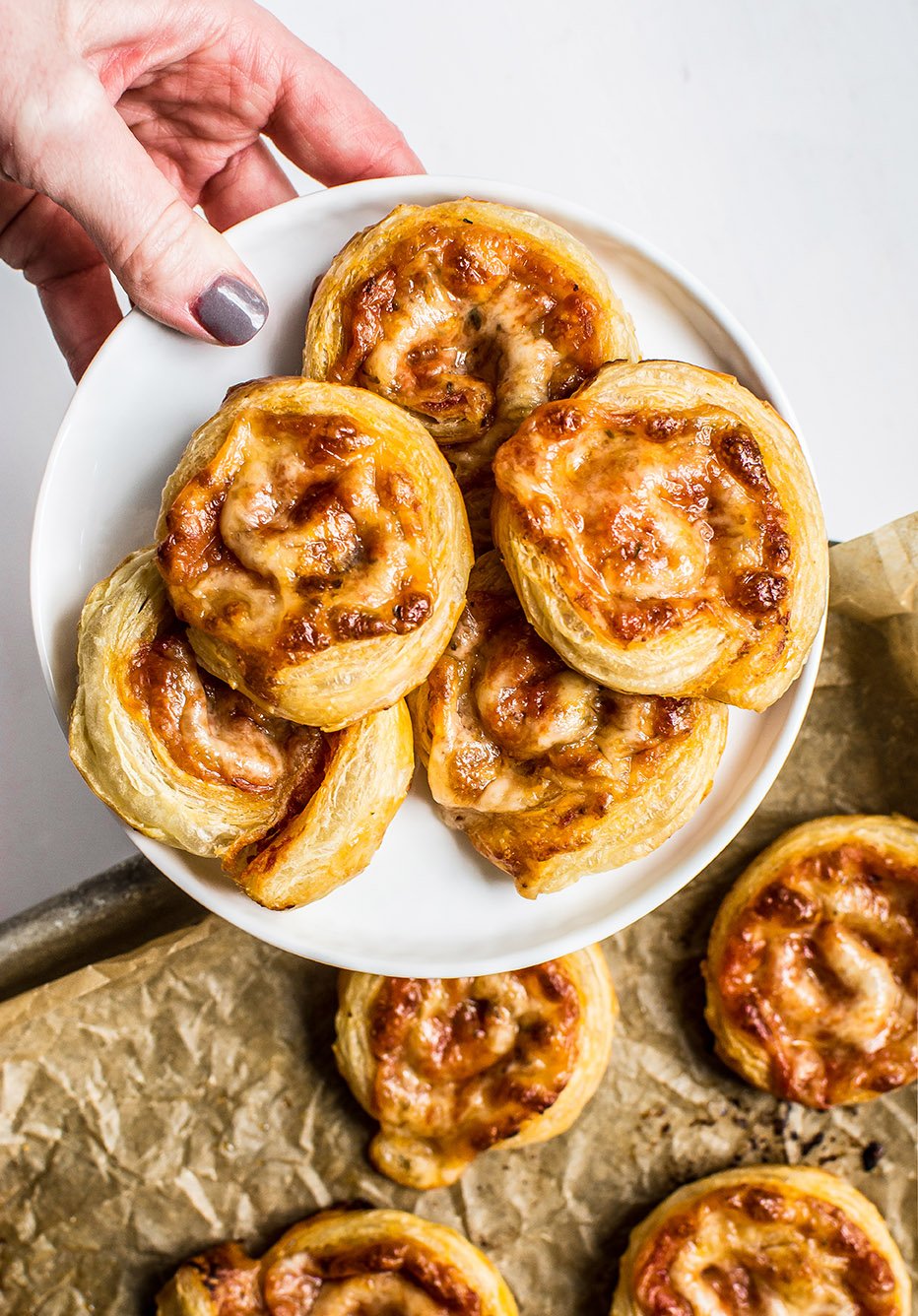 One of my children's favorite way to consume pizza are these pizza puff rolls! The puff pastry makes for a buttery and delicious pizza bite.
Author note: The basic tomato sauce is slightly tweaked version of Marcella Hazan's Basic Tomato Sauce. Store bought tomato sauce also works for this recipe.
puff pastry, thawed
basic tomato sauce, see below for recipe
shredded mozzarella
dried oregano
other favorite toppings like cooked and crumbled ground beef or sausage
1 egg
Heat the oven to 400 degrees.
Place the puff pastry on a cutting board (unwrapped and unfolded). Evenly distribute one layer of tomato sauce on top of the pastry. Add a layer of cheese and any other topping you would like. Lightly dust the top with dried oregano.
Starting with one end, tightly roll-up the dough (like a jelly roll). Once tightly rolled make sure the seam is facing down.
Crack the egg into a small bowl and whisk. Using a pastry brush, brush the top and sides of the pizza roll with the egg wash. Slice into 1/2 inch pieces and place onto a parchment lined baking sheet.
Place into the oven and bake for 20 minutes. Remove from the oven and serve warm.
for the Basic Tomato Sauce
1 can 28 ounce crushed tomatoes
1 onion, halved
half stick unsalted butter
kosher salt, to taste
Place all ingredients into a saucepan. Bring to a simmer and cook for 45 minutes.
Remove the onion. Salt to taste. Use on pizza or pasta.
---
ROASTED RADISH AND SAUSAGE PIZZA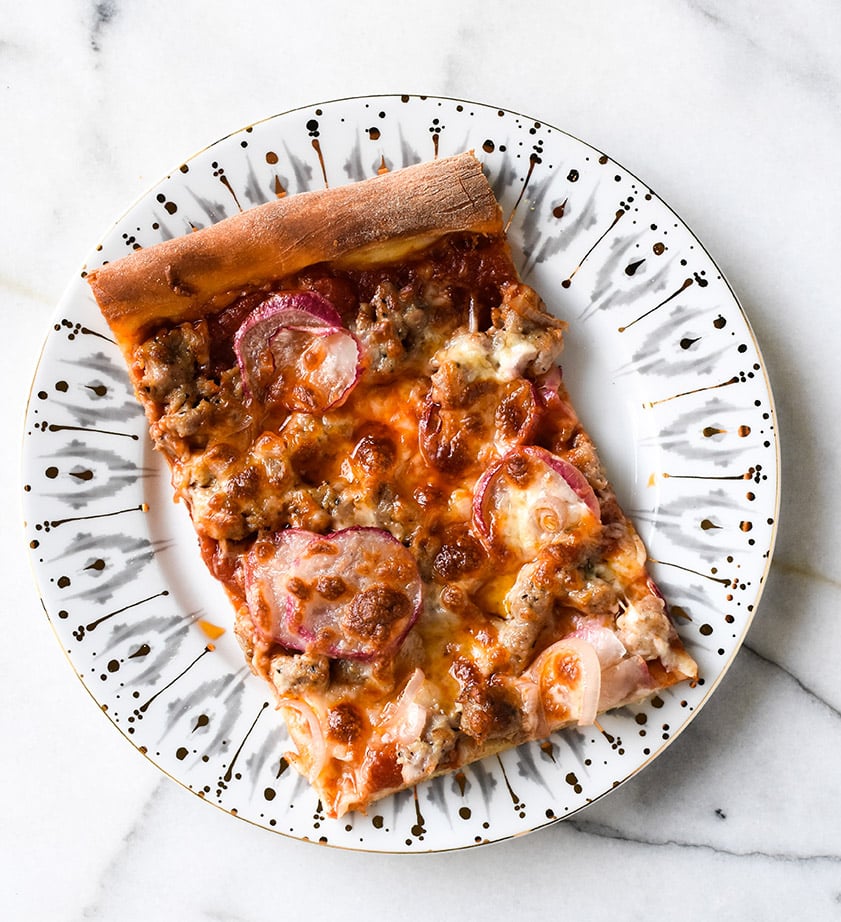 I love making this pizza with Market Street's bulk sausage (found at the butcher counter). I can choose from spicy to mild. This delicious sausage makes for a spectacular pizza.
Author note: This is a non-recipe simply because pizza is a personal creation. Adjust the toppings to your liking. Additional cheese, like parmesan or pecorino, would work well with this pizza.
pizza dough
tomato sauce
1 1/2 -2 cups radishes, sliced
1 teaspoon extra-virgin olive oil
pinch kosher salt
1 shallot, thinly sliced
uncased sausage (I prefer spicy), about 3 links worth
mozzarella cheese
Heat the oven to 400 degrees
In a small bowl combine the radishes, oil and salt. Evenly distribute on a foil-lined baking sheet. Roast for 10 minutes, until tender. Remove from the oven.
Increase the heat to 500 degrees.
Meanwhile, cook the sausage until slightly underdone.
Roll out the pizza dough. Place a layer of tomato sauce on the dough. Next add a handful of cheese to cover the sauce.
Add the sausage, radishes and shallots. Top with a sprinkling of cheese.
Place in the oven and cook until the dough is golden and the cheese melted and browned.