I love chop chop salads! It's like a regular salad, but, as the name suggest…it's chopped!
Texture plays a significant role in how people eat. Hearty, leafy green salads can be off putting to some because of all the chewing. Chop chop salads take this tricky element away, and leaves you with an easy, comforting salad to enjoy.
This Wedge Chop Chop is a play on the classic wedge salad; it is "chopped" full of the favorite ingredients. Bacon! Blue cheese! Red onions! Tomatoes! Everything you love in a wedge, will be in this chop chop, which will make you fall even more in love with this staple steakhouse recipe variation.
Part of this salad's fun is the homemade blue cheese dressing. While at Market Street, meander over to the cheese section and view upon its glorious array of cheeses. Whether you choose a traditional Danish blue cheese or Gorgonzola, there is no wrong blue cheese for this dressing. Once home, the quick assembly of the three ingredients takes this chop chop to the next level: homemade goodness.
If you're short on time, use a premade blue cheese dressing. Market Street has a variety of blue cheese dressings from which to choose. Once again, Market Street saves the day!
For this recipe, there are no measurements (except for the homemade dressing!), just a list of ingredients. It can be built to serve one or a crowd! If you have smaller eaters, like I do at home, and they have not quite developed a taste for blue cheese, prepare the vegetables as instructed in the recipe and then instead of the homemade blue cheese dressing, use their favorite dressing. For my children, that would be ranch or Caesar!
Start the year off with cozy vegetables and make a Chop Chop Wedge Salad for your next grilled steak dinner at home!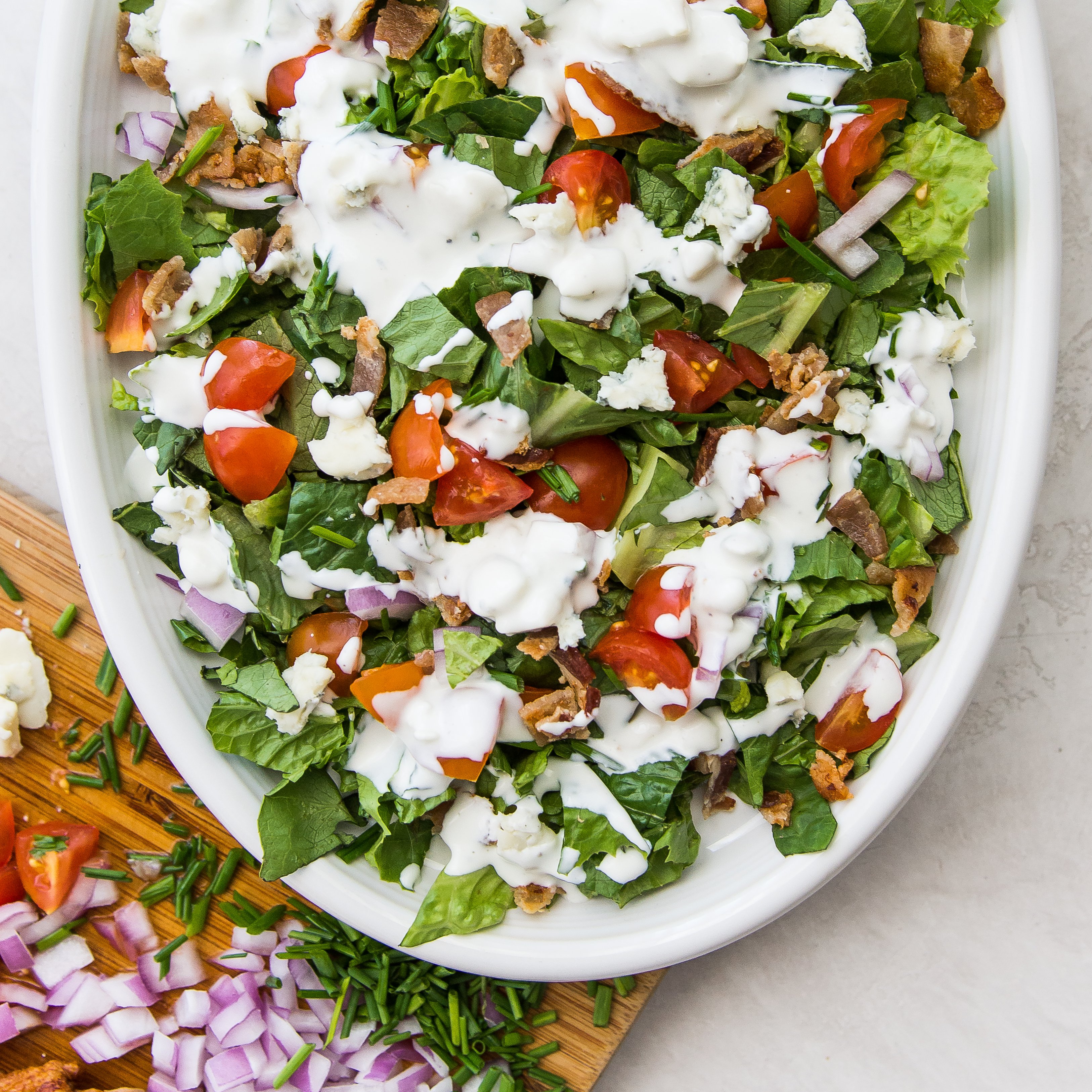 Wedge Chop Chop Salad
servings vary
Author note: Iceberg lettuce is the traditional lettuce used for the Wedge Salad. However, for nutritional purposes, I like to use romaine or butter lettuce. Choose the leafy green you prefer. If preparing the salad ahead of time, be sure the toppings of the salad are at the bottom of the bowl. Right before service, add the dressing and toss the salad. There are no measurements for this recipe's ingredients. Choose the amount based off the number of people being served.
cooked bacon, crumbled
cherry tomatoes, quartered
red onions, finely chopped
chives, finely chopped
iceberg lettuce, chopped into bite sized pieces
Blue Cheese Dressing (see recipe below)
blue cheese crumbles, for topping
In a mixing bowl, add the desired amount of bacon, tomatoes, red onions and chives. Add the lettuce on top of these ingredients. When ready to serve add the blue cheese dressing to the top of the lettuce. Thoroughly toss and top with blue cheese crumbles and additional chopped chives.
For the Blue Cheese Dressing
Author note: Blue cheese will vary in saltiness depending upon the variety used. Salt after tasting.
4 ounces gorgonzola, crumbled
1/3 cup sour cream
1/2 cup buttermilk
1/3 cup mayonnaise
1 tbsp white wine vinegar
pinch of red pepper
black pepper, to taste
salt, to taste
In a small mixing bowl, smash the blue cheese with a fork or potato masher. Add the sour cream, buttermilk, mayonnaise, vinegar, red pepper and black pepper. Thoroughly mix, scrapping the bottom of the bowl to remove any blue cheese that may be stuck to the bottom. Once mixed taste and add salt and seasoning. More vinegar and red pepper may be desired depending upon how tart and hot you prefer dressings. Cover and place into the fridge to chill. Stir thoroughly before adding to a salad.