Post and images by guest blogger, Rebecca White, of A Pleasant Little Kitchen.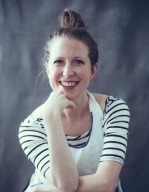 Visit her full blog or find out more about her here.
---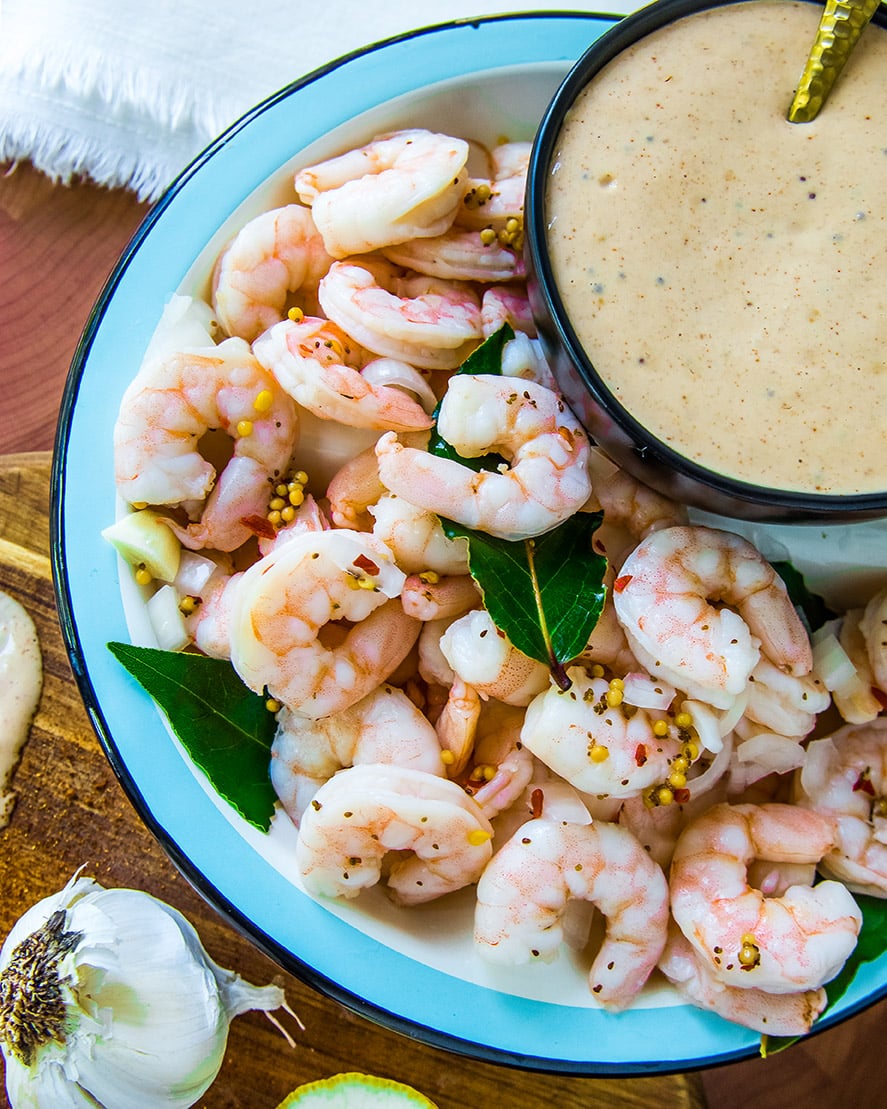 Vegetables aren't the only thing that can or should be pickled. From fruit to eggs, from seafood to beer, almost anything can be pickled.
Pickles are a lovely accoutrement to most any dining experience. The acid helps to bring out a variety of flavors that can't be tasted otherwise. It just so happens that pickles go very well with gathering foods like chips and dips.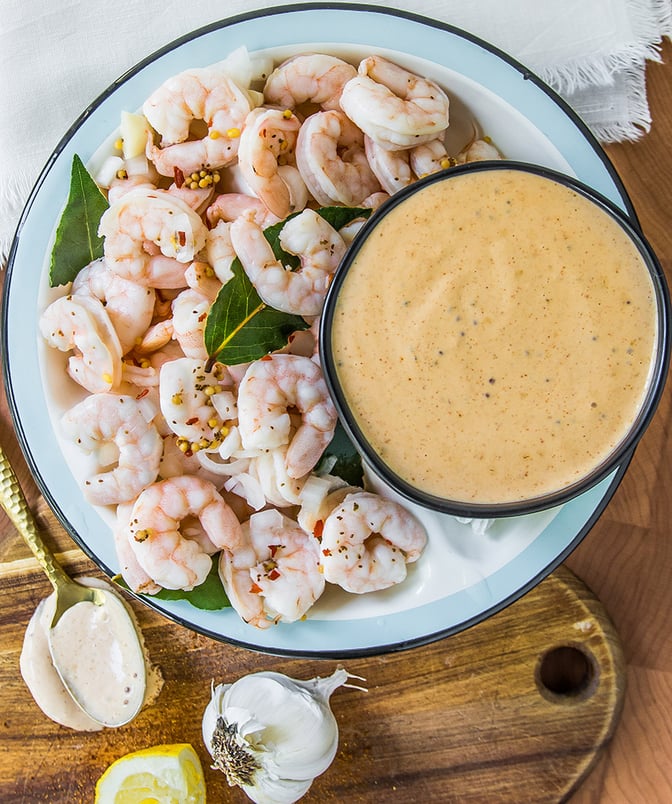 Pickled Shrimp is a perfect big batch food. It's quick to make, feeds a lot and requires no utensils to eat.
What's also great about Pickled Shrimp is that the ingredients are easily accessible at Market Street. Grab fresh shrimp from the fish monger or frozen as well. I suggest going for peeled shrimp without the tail!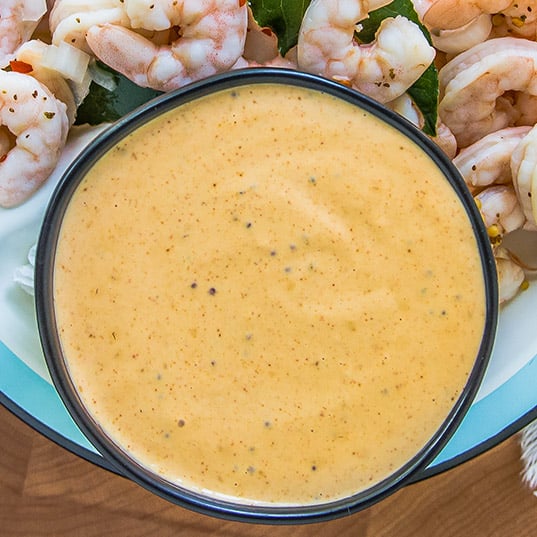 Only four steps are required to make pickled shrimp at home: boil, blanch, combine and chill. It can be prepared the day before and then served with a Mississippi Comeback Sauce that is sure to make you want to dip all.day.long. I suggest adding potato chips to create a trifecta of a bite. However, a walk down Market Street's chip aisle may give you inspiration for another type of chip, from tortilla chips to sour cream and onion, the varieties are endless!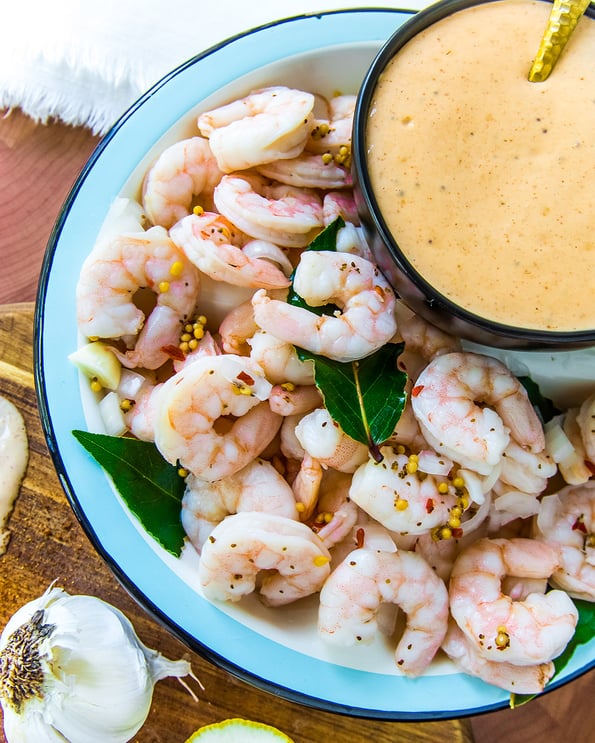 If you're looking for even more of a pickled experience, grab a six pack of Best Maid Sour Pickled Beer from the beer department. This Fort Worth pickle company has partnered up with Fort Worth brewery, Martin House Brewing Company to create a unique pickle sipping experience.
Hopefully you'll be getting yourself into a pickle this summer with the help of Market Street and A Pleasant Little Kitchen!
---
Pickled Shrimp with Mississippi Comeback Sauce
serves 8-10
Author note: I have found myself enjoying the pickled shrimp with not only Mississippi Comeback Sauce, but also with ruffled potato chips. The three seem to work very well together. The shrimp tends to toughen after a few days, so consume within 48 hours.
2 pounds shrimp, peeled and deveined
1 cup white distilled vinegar
2 cups water
1/2 teaspoon celery seed
1/2 teaspoon mustard seed
1/2 teaspoon red pepper flakes (or more to taste)
1 tablespoon kosher salt
2 fresh bay leaves, torn in half
2 garlic cloves, rough chopped
1/2 cup onion, rough chopped
Mississippi Comeback Sauce, for serving (recipe below)
ruffled potato chips, for serving
Bring a large pan of water to boil. Add the shrimp and cook for 2 minutes. Quickly drain the shrimp from the water and submerge in an ice bath. Let chill for 5-10 minutes.
Meanwhile combine the vinegar, water, celery seed, mustard seed, red pepper flakes, salt, mustard seed, bay leaf, garlic and onion in a large bowl. Stir well.
Add the cooked shrimp. Stir to combine. Place in the fridge and let sit for at least six hours. Serve by itself or with Mississippi Comeback Sauce (recipe below).
for the Mississippi Comeback Sauce
1 1/2 cups mayonnaise
1/2 teaspoon smoked paprika
1/2 teaspoon dry mustard
2 tablespoons prepared horseradish
2 tablespoons Worcestershire sauce
2 tablespoons ketchup
2 tablespoons hot sauce
2 tablespoons whole grain mustard
juice of 1 lemon juice
2 garlic cloves
Combine the ingredients into a medium sized bowl and stir well. Place into the fridge to chill until ready to use.