Looking for an interactive, fun and easy clean-up Thanksgiving dessert? Oh, and one that might begin a new and unique Thanksgiving tradition? I have just the answer for you!
Phyllo Pumpkin Shells are a sweet take on pumpkin pie that lets the diner customize the toppings! How much fun is that?!
Tucked inside Market Street's freezer section are phyllo shells. These small lightweight pastry shells are perfect to pre-bake and then fill with a variety of ingredients. For this season, I'm choosing to fill the phyllo with simple pumpkin pie filling. Once the cups are full of spiced pureed pumpkin they are ready to be topped!
This is where the fun begins!
The toppings can be whatever you and your guests enjoy, and can range from chocolate chips, marshmallows, nuts and whipped cream. You can even get colorful and add colored sprinkles if you desire. This take on pumpkin pie is so fun and memorable— you might even find yourself doing it year-round with a variety of seasonal pie fillings. Cherry! Strawberry! Peach!
Some of the best recipes are the simplest. Utilize the variety of ingredients that Market Street has to offer. Start creating memorable and delicious holiday fun, starting with Phyllo Pumpkin Shells!
Phyllo Pumpkin Shells
servings vary
Author note: Have fun with the toppings you choose to serve with the Phyllo Pumpkin Shells. Feel free to add 1/4 tsp of cinnamon to the pumpkin filling.
1 15-ounce can of pumpkin puree
2 tbsp maple syrup
1/3 cup brown sugar
1/4 tsp orange extract
1/4 tsp vanilla extract
pinch kosher salt
1 tbsp unsalted butter, melted
1 tbsp heavy cream
2 packages phyllo shells
chopped pecans, for topping
chocolate chips, for topping
mini marshmallows, for topping
crumbled vanilla cookies, for topping
Heat the oven to 350 degrees F.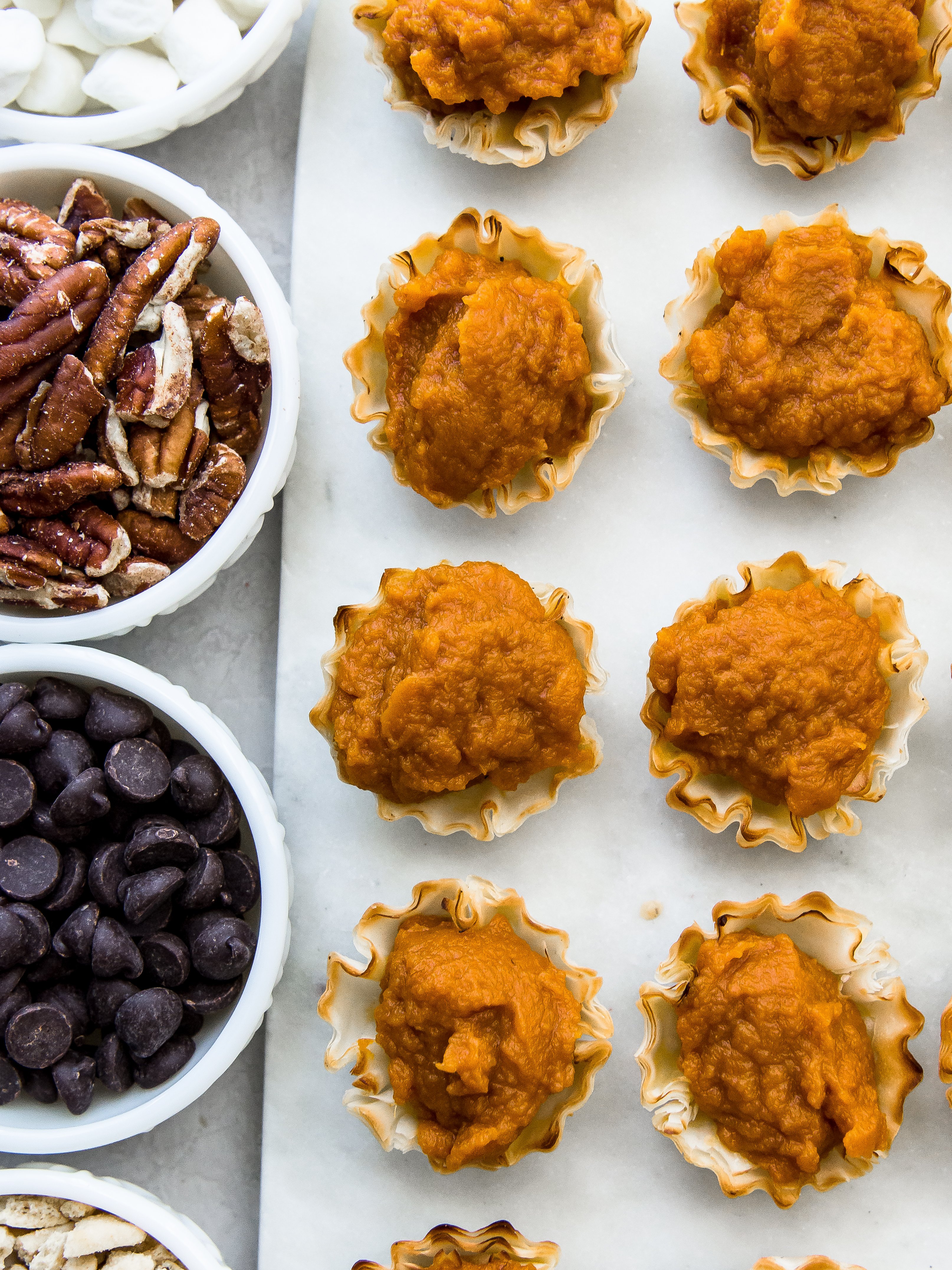 Combine the pumpkin, syrup, sugar, orange extract, vanilla, salt and butter into a small saucepan. Simmer for 15 minutes. Once the butter is melted, stir in the heavy cream. Taste and adjust seasonings. Set aside.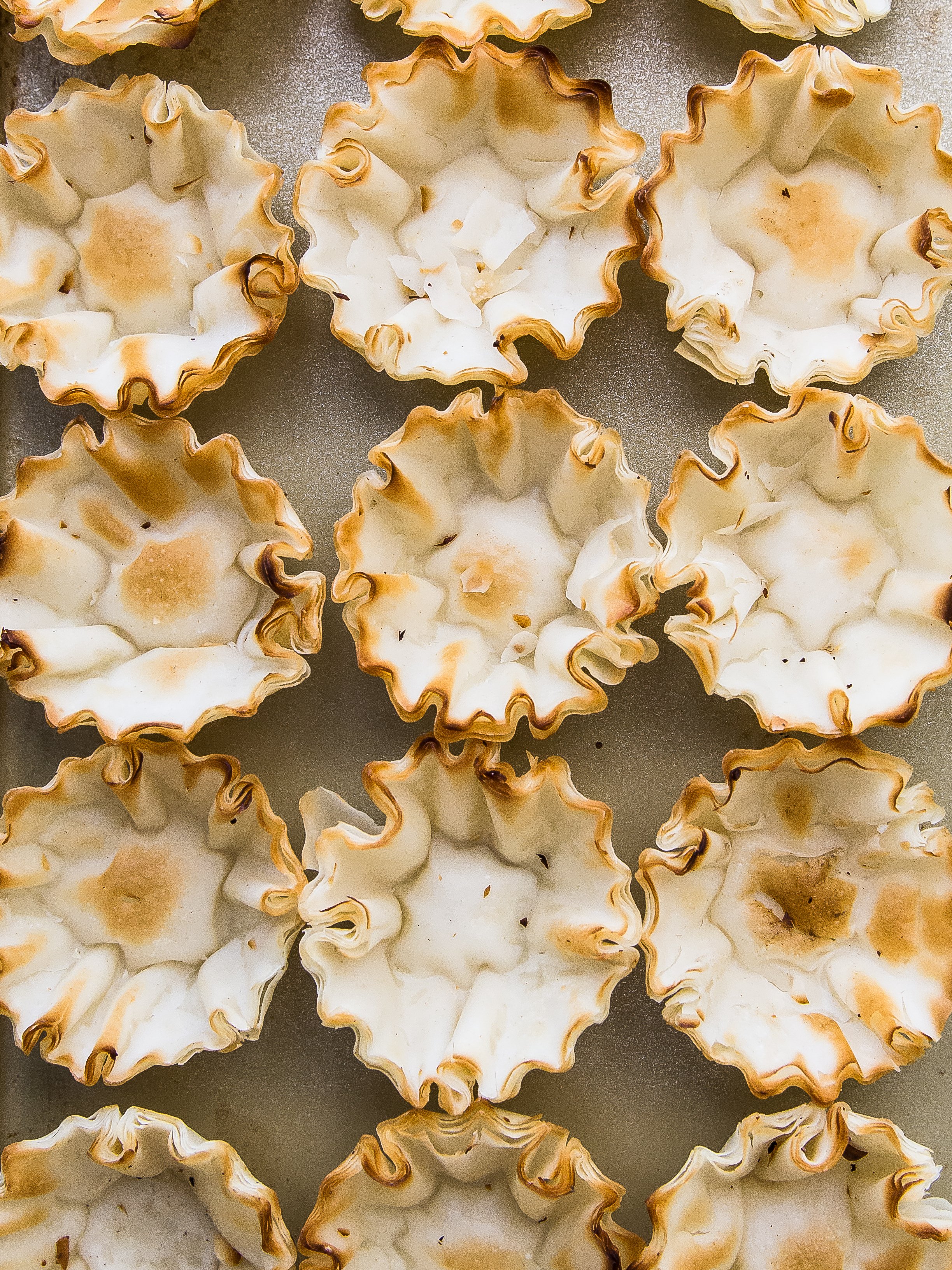 While the pumpkin is cooking, heat the phyllo cups. Place the phyllo shells onto a sheet pan. Place into the oven and cook for 3 to 5 minutes. Remove and let cool.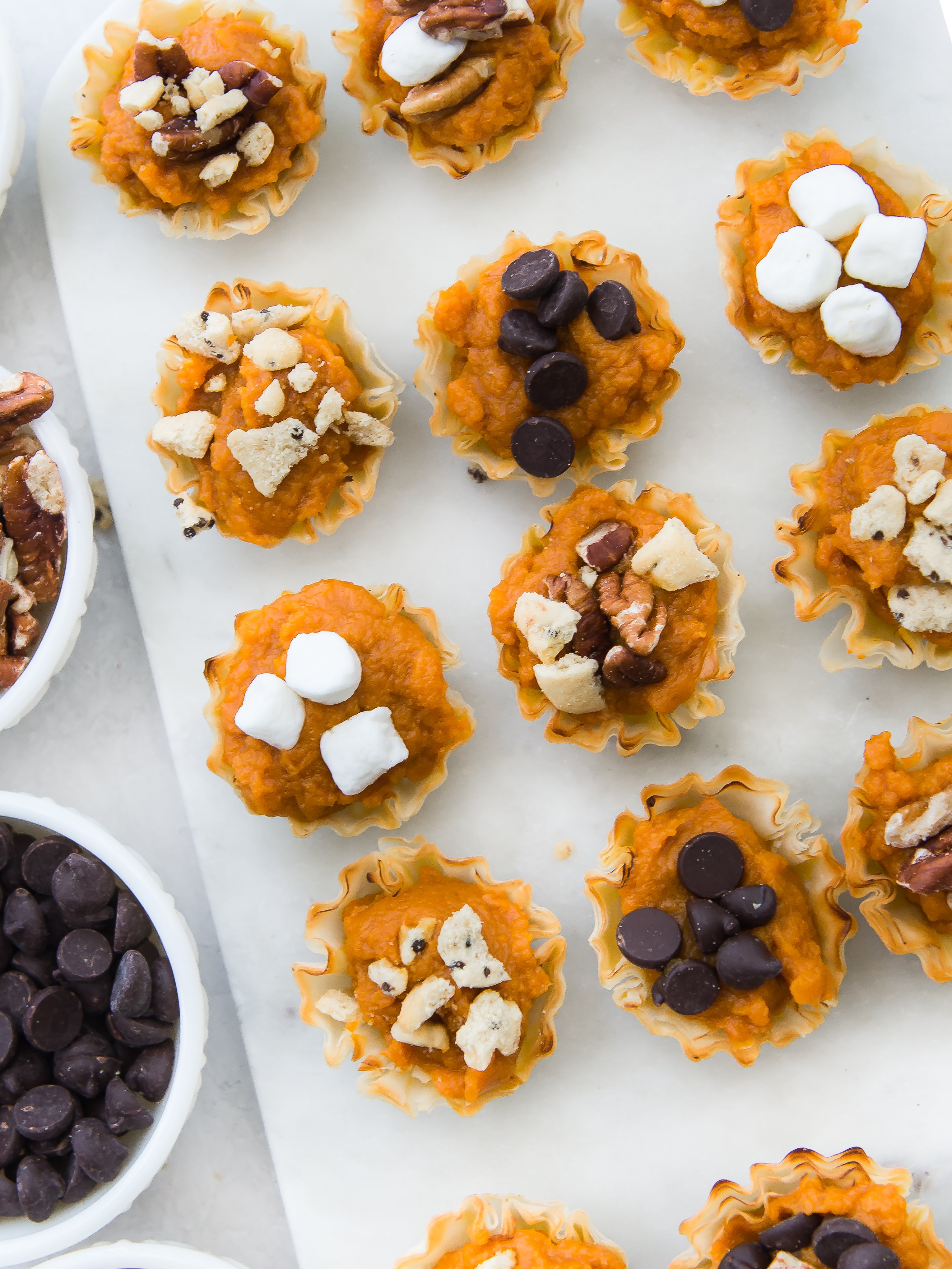 Fill the phyllo cups with the pumpkin. Serve warm or at room temperature with the pecans, chips, marshmallows and cookies. Allow the diners to top their Phyllo Pumpkin Shells with the desired treats.