Many don't think about serving soup with their Thanksgiving Day spread, but for me, it's a must. When utilizing soup for celebratory meals, it allows you to make an unexpected and comforting side dish that brings another culinary experience to the dining table. Cauliflower Rice Soup will be that gem for you this season!
This soup is a creamy, warm and veggie-filled dish that pairs perfectly with a roasted, smoked or fried turkey—perfect for the day of thanks. Another appealing characteristic of Cauliflower Rice soup is its ease of construction and unique ingredients.
Cauliflower florets are cooked in an herb and lemon infused stock for only a few minutes. Once the cauliflower has softened, the arborio rice is added. After 15 minutes of cook time the soup is ready. Frankly, why wait until Thanksgiving to make this soup—it's also a perfect weeknight meatless meal!
Utilizing Market Street's prepared aromatics will make this recipe easier to make. In the refrigerated section of the produce department are onions and celery pre-diced and garlic cloves peeled. Grab a bundle each week you are at the store to make your weekly cooking faster and easier. Market Street understands the time crunch we are in when it comes to cooking, whether it's for daily meals or yearly feasts!
Another trick to make Thanksgiving (weeknight!) grocery shopping easier is utilizing Market Street's online grocery service. Grocery shopping from the comforts of home makes the holiday seasons even brighter.
Enjoy a cup of soup with your Thanksgiving spread this holiday season and begin a new family tradition of simple, delicious and unexpected recipes!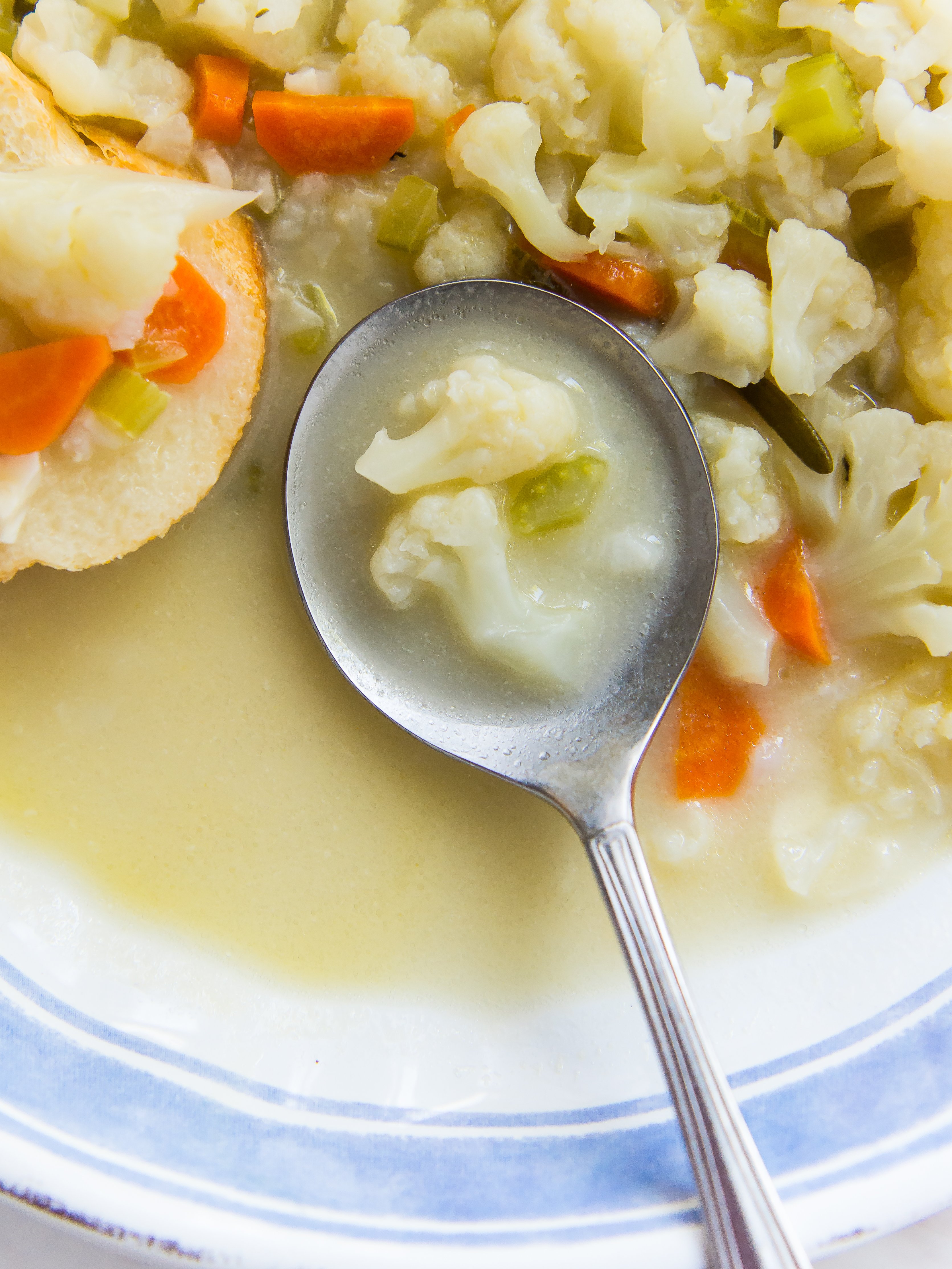 Creamy Cauliflower and Rice Soup
serves 6 to 8
8 cups low-sodium chicken stock
1 1/2 lbs (24 ounces) cauliflower florets, cut into bite-sized pieces
1/2 small lemon
sage, rosemary and thyme sprigs tied together
3 tablespoons unsalted butter, divided
5 cloves of garlic, crushed
1/4 cup finely diced celery
1/2 cup finely chopped carrots
2 tbsp flour
1/3 cup arborio rice
1 ½ to 2 tsp kosher salt
1 cup crème fraiche
1/2 tsp white wine vinegar
lemon wedges, for serving
pepper, for serving
In a large pan, bring the chicken stock to a low boil. Add the cauliflower florets, lemon half and herb bundle. Cover and cook for 10 minutes. Remove the lemon. While the stock is warming up, cook the vegetables.
In a medium-sized skillet, melt two tablespoons of butter over medium heat. Add the garlic, celery and carrots to the skillet and cook until softened, about 8 minutes. Add the flour and stir to combine. Cook for 1 minute. Stir in a few ladlefuls of chicken broth to the mixture. Stir until the roux and liquid have formed a thick sauce. Turn off the heat.
Once the cauliflower is done boiling, add the carrot and celery mixture into the pan of simmering chicken stock and cauliflower. Add the arborio rice to the soup. Stir well to combine and cover. Cook for 15 minutes or until the rice is cooked through. Stir occasionally.
Add the salt and remaining 1 tablespoon of butter to the soup, let melt. Stir in the crème fraiche and vinegar. Warm through and then taste. Salt to preference. Ladle the soup into bowls and top with fresh lemon juice and pepper (optional). Serve with crusty bread.