Post and images by guest blogger, Rebecca White, of A Pleasant Little Kitchen.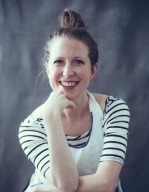 Visit her full blog or find out more about her here.
---
I've always been intrigued by jumbo pasta shells. Every time I walk through the pasta aisle at Market Street, I have a fleeting thought…
"one day I'm going buy a box and then stuff these beautiful shells with goodness."
What that goodness is, I haven't been quite sure…until recently.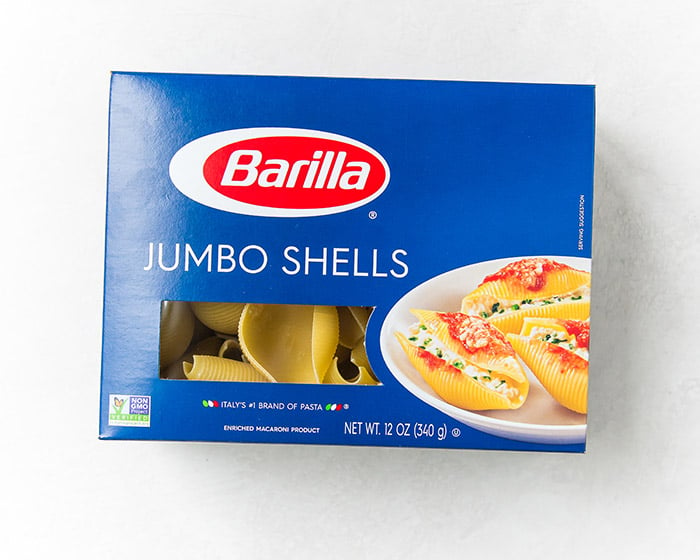 Meatballs fall under the category of "food kids like." The size, shape and dip-ability make this food friendly, not just for the little ones but for grown-ups alike. Fortunately for me, I have a meatball recipe that my children l-o-v-e and it's one I make occasionally for their little bellies.
I'm not sure when I decided that this ricotta beef meatball mixture needed to be the filling for the jumbo shells, but it did happen and it's baked jumbo shell glory.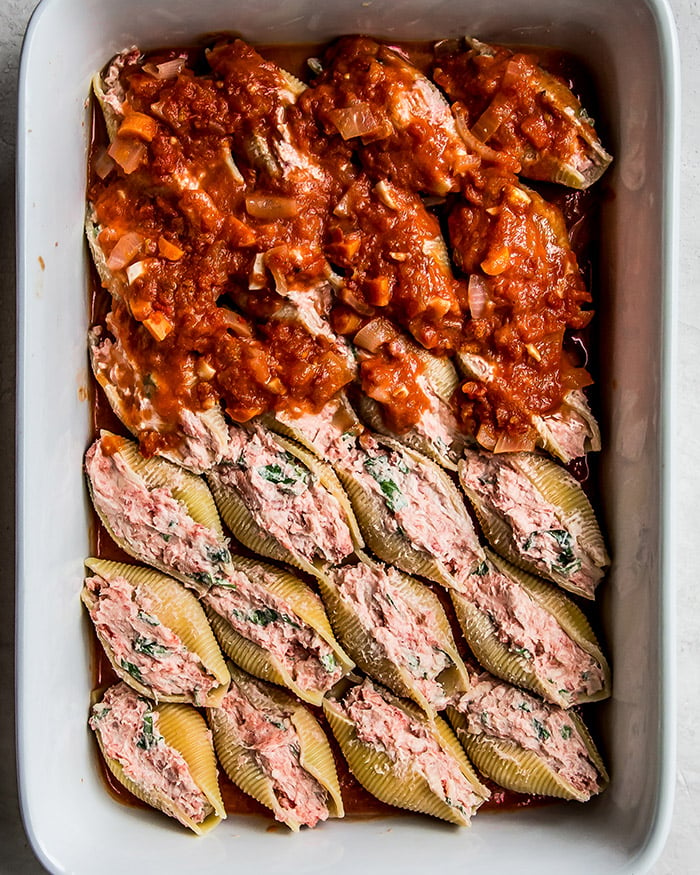 Baked Ricotta and Beef Stuffed Shells is a Sunday Supper must. The process of stuffing the shells is a bit time consuming, but it's nothing a bit of wine and your favorite tunes can't turn into kitchen bliss.
Now, let's talk ingredients. I can't speak highly enough of my newfound favorite line of ricotta and mascarpone—Vermont Creamery found in Market Street's cheese department. Both are creamy in texture and delicious in taste. They blend perfectly with the ground grass-fed beef, parmesan cheese and organic basil. Market Street has everything I need to make top-notch, quality food.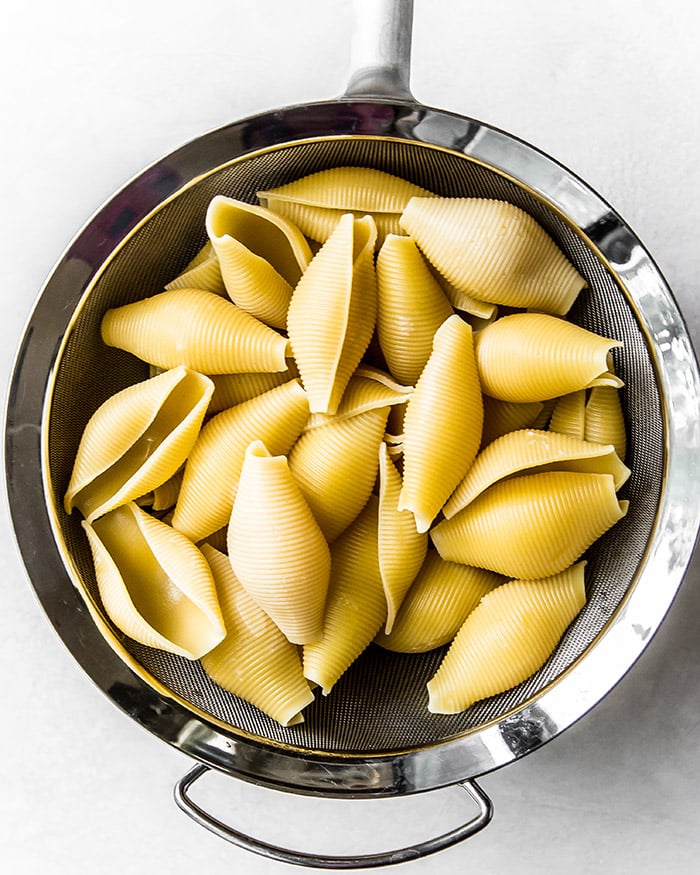 These jumbo shells are meant to be stuffed with this rich and decadent beef mixture and then topped with a homemade red sauce. If you're feeling extra cheesy (which not everyone in my family does, so I don't), top this dish with shredded mozzarella and parm to make the baked shells an even more delicious meal.
Prepare yourself for a memorable and delicious Sunday Supper with Baked Ricotta and Beef Shells. Once you make it, you'll never have to wonder what you would stuff in those jumbo shells—it will always be beef and ricotta!
---
Baked Ricotta and Beef Shells
Serves 6-8
Author note: This pasta dish can be prepped 6-8 hours before baking. Remove from the oven at least an hour before baking. If you would like to top with cheese before baking, a combination of shredded mozzarella and parmesan would work well.
Ingredients:
1 12 ounce box jumbo pasta shells
1/2 cup yellow onion, diced
5 garlic cloves, chopped
3 tablespoons carrot, finely chopped
1 cup whole milk ricotta
1 cup mascarpone cheese
1 pound ground beef
1/2 cup grated parmesan cheese
2 teaspoons kosher salt
1/2 cup fresh basil, chopped
1 tablespoon extra-virgin olive oil
2 12-ounce cans diced tomatoes
1 cup dry white wine (like pinot grigio)
1/4 cup cream
Directions:
Heat the oven to 375 degrees.
Boil the noodles to almost al dente, about 6 minutes. Strain the pasta from the water and set aside to cool.
In a skillet add the olive oil, carrot, onion and 1 teaspoon of salt. Cook for 5 minutes. Add 3 cloves of garlic to the skillet. Cook for 1 minute. Add white wine, cream and tomatoes. Simmer for 15 minutes.
While the sauce is simmering, combine the ricotta, mascarpone, parmesan cheese, ground beef, 1 teaspoon salt, 2 garlic cloves and basil in large bowl.
Pour half of the sauce into a heat proof bowl. Set aside.
Stuff the cooked shells with the ricotta beef mixture. Place the stuffed shells into the sauce. Spoon the remaining sauce over the stuffed pasta. If you prefer to cook the shells in a baking pan, add a layer of sauce to the bottom of the pan. Place the stuffed pasta into the pan and cover with the remaining tomato sauce.
Place into the oven and bake for 50 minutes. Top with freshly grated parmesan and freshly torn basil.